Courses/Training/Workshops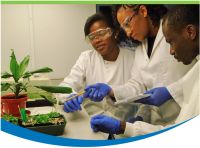 Monday 27th March 2017
Venue: Department of Plant Sciences, University of Cambridge
Dates: 27th March to 5th April, 2017 (rescheduled)
Application deadline: 16th September, 2016
The Scientific Laboratory Training Workshop is for Africa- based agricultural research scientists. It will enable you to further develop your knowledge base in novel scientific techniques and give you the opportunity to connect, learn from and exchange ideas with world leading scientists in the field of agricultural research.
The total cost for the workshop is £1000 per person. Payment deadline to confirm your place is 30th November, 2016. 
Friday 31st March 2017
The British Institute in Eastern Africa (www.biea.ac.uk ) is accepting applications to its three-week 2017 Summer School in Kenya.
The Summer School targets graduate students from the humanities and social sciences departments from across the world. The aim is to provide advanced practical and field-based training in research methods. The students will spend ten days in the field putting into practice various research methods.
Modules on offer include: Approaches to African Studies by various Disciplines (Anthropology, Archaeology, History and Political Science); Introduction to field research; Practical sampling, mapping and village surveys exercises; Practical ethnographic field work exercises; Practical oral and life history interviewing and focus group discussion exercises and; Ethics, permits and practicalities of doing research in Africa.
Sunday 30th April 2017
Course Dates: 30/4/17-06/05/17
Application Deadline: 06/01/2017
The Wellcome Genome Campus Overseas Course is offered in collaboration with the University of Ghana on Experimental Genetics in Malaria.
This free laboratory-based course will provide participants with hands-on training in cutting-edge Plasmodium experimental genetics techniques, from designing gene targeting vectors and creating transgenic parasites to genotyping and phenotyping the resulting strains. The goal is to facilitate the participants' own research careers by exposing them to state-of-the-art experimental approaches, while discussing the advantages and limitations of each approach.
The week-long course will cover experimental approaches to generating genetic mutations in the human malaria parasite Plasmodium falciparum. The course is hands-on and attendees will generate gene targeting constructs, carry out different transfection approaches, undertake practical exercises in genotyping of modified parasites, and both observe and learn advanced molecular phenotyping approaches.There will be a particular focus on new scalable approaches, including CRISPR-Cas9 genome editing. 
The course is open to scientists and clinicians based in Africa who are looking to establish and use Plasmodium transfection technology at their institutes. Places are limited and priority will be given to applicants who provide a strong scientific case for learning Plasmodium genome modification.
The course will be taught in English.