CAPREx Alumni Spotlight
Read below for case studies on the following CAPREx alumni: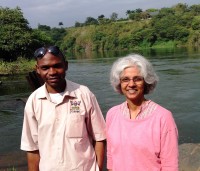 Dr Umar Kakumba
CAPREx Fellow 2013-14, College of Business & Management Sciences, Makerere University
Human Resources Retention in Uganda's Local Government: Review of Policy and Institutional Mechanisms With Lessons From The British Experience
Collaborator: Dr Shailaja Fennell, Centre of Development Studies
Dr Kakumba was promoted to Associate Professor at Makerere, Dean of the School of Business and Management Sciences, and a Member of the University's Senate. He is involved in several international programmes including a Pan-African capacity building programme by the Development Bank of Southern Africa and the Industrial Development Corporation. He is well-placed to further champion the CAPREx project and research excellence within the University and further afield.
Dr Kakumba continues to work with his collaborator Dr Fennell on several other projects, international grant applications and the co-supervision of two Cambridge PhD students. Dr Kakumba became the International Social Science leader for the "Smart Villages Initiative", lead from Cambridge. This project focuses on provision of off-grid energy for rural development. They co-ran a 2-day workshop in Terrat, Tanzania, on rural energy change and they continue to make reciprocal research visits.
See his publications here including a paper co authored with Dr Fenell in the Loyola Journal of Social Sciences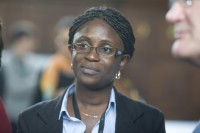 Dr Theresa Manful
CAPREx Fellow 2013-14, Biochemistry, University of Ghana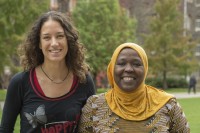 Dr Saudah Namayalo
CAPREx Fellow 2014-15, Linguistics, Makerere University
 'The growth of Luyaaye and Ugandan youth-urban language change'
Collaborator: Dr Jenneke van der Wal, Department of Theoretical and Applied Linguistics
Dr Namayalo has made published heavily and she regularly presents at international conferences including presentations with Dr Van der Wal. Her work has been disseminated widely within the University of Cambridge and she continues to work with the Unviersity since her collaborator changed institutions.
An article about the collaborative research was published in the Feb 2015 edition of the University of Cambridge's, Research Horizons and on the University website . Dr Namyalo presented at the University's second annual Cambridge-Africa Day and at Cambridge University's annual 'Festival of Ideas', in October 2015. The talks were among the most widely enjoyed. She also presented a paper for the Cambridge Endangered Languages and Cultures Group.
Dr Namayalo has developed a corpus of Luyaaye in collaboration with Dr van der Wal and has recently received 21,000 USD for A bilingual talking dictionary of Luruuli/Lunyara-English dictionary.
She works to influence policy regarding youth, in health and education sectors e.g. using her research findings to advise and support public health programmes engaging Ugandan youth on issues such as HIV.
Dr Namyalo is collaborating with the Wellcome Trust-Cambridge Centre for Global Health Research, looking at suitability of language with respect to users and the social and cultural context in which health communication takes place. She is involved with the Center in an application for £1.9m to the Economic and Social Research Council.
Dr Namyalo was also awarded EUR 199,500 for a Volkswagen postdoctoral fellowship in Humanities, working with the University of Kiel.
Listen to Saudha and her collaborator talk about their work here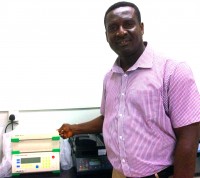 Dr Neils Quashie
CAPREx Fellow 2015-16, Noguchi Memorial Institute for Medical Research, University of Ghana
Use of CRISPR-Cas9 genome editing system in search of novel molecular markers of antimalarial drug resistance and drug target discovery
Collaborator: Dr Julian Rayner, Malaria Programme, Wellcome Trust Sanger Institute
Dr Quashie trained in gene editing technology with respect to the Plasmodium falciparum genome at the Wellcome Trust Sanger Institute. He is already well on the way to transferring this technology to Ghana - an important step toward identifying molecular markers for antimalarial drug resistance in Africa.
Whilst in Cambridge, he presented his work during seminar series and lab meetings, making strong links with the wider Malaria Programme. In July 2016, he co-ran a workshop with Dr Oliver Bilker from the Wellcome Trust Sanger Institute in Ghana on "Experimental genetics of Plasmodium". This will be repeated when Dr Rayner makes his collaborator visit in 2017
Since returning to Ghana, Dr Quashie has already established a laboratory dedicated to the CRISPR Cas9 (gene editing) technology and started co-supervising PhD students with his collaborator. A laboratory manager and PhD student have been recruited for the project in Ghana, which will also involve masters level students. He has also been promoted to Associate Professor and Head of the Centre for Tropical, Clinical Pharmacology and Therapeutics, College of Health Sciences. 
Dr Quashie has made oral presentations on the CRISPR Cas9 technology to sections of the University of Ghana community. A poster on the application of the technique was presented at a symposium on malaria in Ghana in June 2016 attracting a lot of interest.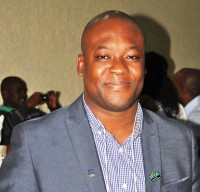 Dr David Dodoo Arhin
CAPREx Fellow 2013-14, Materials Science and Engineering, University of Ghana
Graphene based natural dye sensitized solar cells
Collaborator: Dr Tawfique Hasan, Department of Engineering
Dr Doodo-Arhin's career has moved impressively from strength to strength. He was promoted to Acting Head of the Department of Materials Science and Engineering at UG and became Acting Director of the Institute of Applied Technology (IAST): which serves as a platform for the transfer of knowledge, technology and innovation to industry and communities. He is also now the UG Node Coordinator for the Regional Initiative in Science Education-Science Initiative Group African Materials Science and Engineering Network (RISE-SIG-AMSEN).
Dr Dodoo-Arhin has also now extended his international research collaborations to include the Peter Skabara group, University of Strathclyde - Glasgow, UK, on organic photovoltaics and Ogranic LEDs.
He is a member of several professional bodies, editorial board member of the Elsevier journal of Progress in Natural Science: Materials International (PNS:MI), reviewer of several local and international journals, MSc and PhD external examiner for Universities in Ghana and South Africa.
His CAPREx work has resulted in four publications (one with his collaborator in Carbon) and won the Applied Physics Laboratory Materials Gold Poster Award at the MAT4ENERGY conference, 2014.
Dr Dodoo-Arhin hosted the 8th International conference of the African Materials Research Society with attendance of about 300 participations. In June 2016, he hosted the 2nd Knowledge Exchange for Young Scientist (KEYS) symposium, which resulted in a research collaboration with the Federal Institute for Materials Testing (BAM) in Berlin-Germany.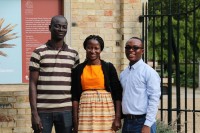 Ms Afia Serwaa Attrams
Research Management Fellow 2013-14
Ms Attrams was a CAPREx research management fellow attending training at the University of Cambridge.
Since her fellowship, she has been involved in organising training to share the new skills with research and administration staff in the University of Ghana, developing orientation and training for new appointees and for creating an electronic newsletter for information sharing within the University. 
Her work has since been recognised by the School of Social Sciences at the University of Ghana who awarded her with the Special Award for Meritorious Service for her notable contribution in supporting the work of the School.
She received a citation which included "You took active steps in ensuring research activities in the School advanced. You particularly played a key role in the organization of the School's Colloquium/Conferences. You have also tirelessly pursued fundraising leads for the School and you support Faculty members of the School in the preparation of grants proposals and administration."