2015-2016 Cohort
These are the photos of the very first cohort of PhD students sponsored by Cambridge-Africa to pursue their PhD's at the University of Cambridge. Where are they now?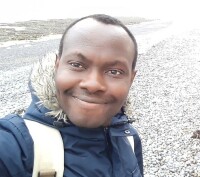 Ebenezer Antwi Gyamera
| | |
| --- | --- |
| Full name | Ebenezer Antwi Gyamera |
| PhD project | Studies of resistance to aphids and viruses in Arabidopsis thaliana and Capsicum annuum |
| PhD Supervisor (Department) | Prof John P. Carr , Plant Sciences |
| Year of completion | 2019 |
| Email | eag42@cantab.ac.uk |
WHERE ARE YOU AT THE MOMENT ?
I am a Virologist (Research Scientist I) at the Cocoa Research Institute of Ghana.
Cocoa swollen shoot virus disease is the most destructive virus disease of cocoa (Theobroma cacao) in Ghana. Once a plant gets infected, there's nothing to be done except to cut down the infected tree and all the healthy trees in contact with the infected tree. Usually the farmers are not happy for their cocoa trees to be cut down so the government compensates them in cash and replant their farms with more virus tolerant cocoa varieties. As one of the virologists at Cocoa Research Institute of Ghana I work with other scientists to find the best solutions to mitigate the virus threat to cocoa production in Ghana.
TELL US ABOUT YOUR TIME AT THE UNIVERSITY OF CAMBRIDGE
My MPhil degree in Ghana was on Nuclear Agriculture (Atomic); it included courses like mutation breeding, nuclear law, radiation biology, soil science but also virology. I chose to write my thesis on virology in the second year of the programme. I think my love for virology only increased from there. I then applied and got admission to Cambridge University to pursue a PhD in Plant virology. One thing I really appreciate about researching on plant viruses in Cambridge is on how broad the curriculum is. You learn so much about the vector which is an insect and then the host which is a plant and then the virus which is neither and how these three organisms interact in a complex pathosystem. By the time you're through with your virology research in Cambridge, you're not only a virologist but also an entomologist, a geneticist and a botanist as well.
I tried rowing on river Cam with my college just a little bit and it was quite fun. In general, there wasn't really much to my social life in Cambridge .....
TELL US ABOUT YOUR EXPERIENCE SINCE LEAVING UNIVERSITY
I am a virologist at the Cocoa Research Institute of Ghana (CRIG). CRIG conducts research on cocoa, coffee, shea, kola and cashew trees in Ghana. It's very fulfilling to discuss your research plans with mycologists, rural sociologists, biochemists, entomologists, agronomists, plant breeders, soil scientists and plant physiologists here at CRIG for their contributions. People here are very friendly and excited about their research. I will be very proud to contribute significantly toward the eradication of cocoa swollen shoot disease in Ghana; the farmers will be so happy and the world can have an everlasting supply of chocolate.
ALUMNI WISDOM
(what can you tell current Cambridge-Africa PhD scholars)
Three words: perseverance, cheerfulness and kindness. When the obstacles come and you can ignore it, please ignore it and move on, if not, deal with it tactfully with all grace and humility. Congratulations! Cambridge is a big deal and you are a big deal too. You are now where you belong.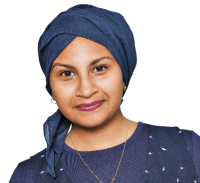 Taskeen Adam
| | |
| --- | --- |
| Full name | Taskeen Adam |
| PhD project | Addressing Injustices through MOOCs: A study among peri-urban, marginalised, South African youth |
| PhD Supervisor (Department) | Dr Shailaja Fennell, Center of Development Studies |
| Year of completion | 2020 |
WHERE ARE YOU AT THE MOMENT ?
Associate Manager, Open Development and Education
TELL US ABOUT YOUR TIME AT THE UNIVERSITY OF CAMBRIDGE
I first came to Cambridge as an MPhil student in Engineering for Sustainable Development. I had originally studied Electrical Engineering and founded an initiative called 'Solar Powered Learning' which embraced Human Centred Design principles. I was interested in learning more about applying engineering skills for social good and that is exactly what my MPhil supported me in doing.
When I returned for my PhD, I had a somewhat rocky start as my original supervisor in the Engineering Faculty had left so I shifted to Development Studies. While I was glad to find the support I needed, I had a big task ahead of me as I needed to learn how a new discipline functioned and I was also out of sync with my cohort.
Although these first few months of my PhD were extremely daunting and challenging, I was blessed with finding a great support system through my PhD supervisor, my Development Studies cohort, and my friends from the African Society of Cambridge University (ASCU) and Cambridge University Islamic Society (CUIS). The friends I made through ASCU and CUIS became my family and supported me through the highs and lows of my PhD journey. These organisations were also where I sought to make change through, such as through the Cambridge-Africa conferences and the Being Muslim in Cambridge conference that I co-organised.
Looking back at my time at Cambridge, I truly appreciate the mental space I had to think and research, as that is not always possible in a busy day job. However, the most memorable moments for me, are the friendships I formed and the lessons I learnt from friends and colleagues from different walks of life.
TELL US ABOUT YOUR EXPERIENCE SINCE LEAVING THE UNIVERSITY OF CAMBRIDGE
I submitted my PhD thesis then left before the Covid19 pandemic hit. This resulted in me being one of the first students at Cambridge to do a remote viva.
I was fortunate to start working for Open Development and Education (ODE) as well as EdTech Hub. ODE specialises in effective use of technology in education in low and middle-income countries, with expertise in tech-enhanced teacher professional development. The company is thus the perfectly aligned to my passions and expertise developed through my PhD. As Associate Manager, I manage operations, conduct research, and carry out grant-writing.
EdTech Hub is global non-profit research partnership, of which ODE is one of the core partners. My job at EdTech hub has been to support decision-makers in low- and middle-income countries with education responses to COVID-19 through advising on appropriate EdTech solutions for the country's context. This has been done through offering technical assistance, writing just-in-time reports, running workshops, and managing grants. Topics that I have contributed to include offline digital learning, virtual learning environments, open educational resources, MOOCs, teacher professional development, structured pedagogy, personalised learning, and digital public platforms, amongst others. Country education systems that I have engaged with through both ODE and EdTech Hub include Kenya, the Caribbean, Jordan, Cameroon, Tanzania, Ghana and Sierra Leone.
I also work on various data initiatives such as a campaign to unlock education data in Africa to support better decision-making and developing the EdTech Tools database and EdTech publications database.
ALUMNI WISDOM
(what can you tell current Cambridge-Africa PhD scholars)
Looking back at my years at Cambridge, my piece of advice would be to build friendships with people you can call your Cambridge-family. Cambridge can be lonely, and we often feel the need to study, study, study lest we fall behind (pro-tip: everyone thinks they are behind everyone else, but in reality, everyone is on their own journey and each journey is different). Taking time to build community and friendships will do far more for your well-being than trying to push on with more work. You may forget what you read in the hundreds of journal articles you will sift through, but the memories with your Cambridge-family will stay on forever.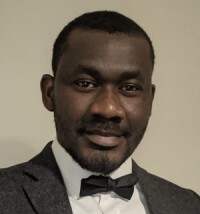 Felix Agyemang
| | |
| --- | --- |
| Full name | Felix S. K Agyemang |
| PhD project | Dynamic geospatial modelling and simulation of predominantly informal cities |
| PhD Supervisor (Department) | Prof Elisabete Silva, Land Economy |
| Year of completion | 2019 |
| Email | felix.agyemang@bristol.ac.uk |
WHERE ARE YOU AT THE MOMENT?
Postdoctoral Research Associate at the School of Geographical Sciences of the University of Bristol.
TELL US ABOUT YOUR TIME AT THE UNIVERSITY OF CAMBRIDGE
Choosing Cambridge for the PhD was not a difficult decision, not only because of the high standing global reputation of the university, but I also had a great experience of the institution during my previous time as an MPhil student.
I have fond memories of my time as a PD student in Cambridge. I had the opportunity to meet, interact and network with outstanding scholars and amazing people from different parts of the world. In addition to co-authoring six peer reviewed articles in high-ranking journals, I presented at seminars and conferences in several countries, including USA, Portugal, and South Africa. I also had the platform to teach as a Graduate Demonstrator and supervised both undergraduate and masters' students in small groups.
Beyond academic work, I was active in organising student activities, including serving as the President of the Cambridge University Ghanaian Society. I also had the privilege of being one of five scholars nominated by the Cambridge Trust to attend the 70th birthday celebration of HRH the Prince of Wales, Prince Charles at the Buckingham Palace. Not least, being in Cambridge came with professional opportunities as prior to submitting my PhD dissertation, I was offered my current job.
TELL US ABOUT YOUR EXPERIENCE SINCE LEAVING THE UNIVERSITY OF CAMBRIDGE
I have been working as a Postdoctoral Research Associate at the School of Geographical Sciences of the University of Bristol since leaving Cambridge. I work on three projects. On the first project, I collaborate with academics from Human Geography and Economics who are based in universities in UK, Pakistan, and USA to explore how energy consumption data could be used to map urban living standards in cities in low-and-middle-income-countries. The second project involves mapping flood risk in the Central Highlands of Vietnam, working with scholars in Hydrology, Economics and Human Geography, based in Vietnam, Germany, and UK. The third project involves using state-of-the-art machine learning techniques, such as convolutional neural network, and publicly available satellite imagery to target social protection in Pakistan. Like the first project, I work with academics from UK and Pakistan on this project.
The journey after PhD largely coincided with the Covid-19 global pandemic, which means I have had to work from home over the past year. While working from home, I have designed series of online Data Science Workshops for Researchers and Data Analysts in Ghana. The workshops provide the opportunity to interact with the youth from Ghana, and the platform to impart knowledge in Geospatial Science and Python programming. In summary, the journey so far has been quite impactful.
ALUMNI WISDOM
(what can you tell current Cambridge-Africa PhD scholars)
Cambridge University provides a wide array of academic, career, and social infrastructure. Attending seminars, conferences, and participating in social events are perhaps as important as going to the lab, library, or the Faculty. After Cambridge, the journey is only one way: forward!
Publications