Conferences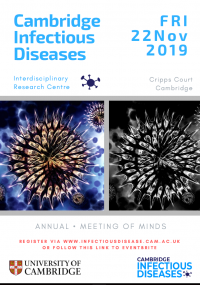 Friday 22ⁿᵈ November 2019
Cambridge Infectious Diseases Annual Meeting of Minds symposium
Friday 22 November 2019
Annually, the University of Cambridge Infectious Diseases Interdisciplinary Research Centre organises a vibrant full-day symposium 'Cambridge Infectious Diseases Annual Meeting of Minds', with 120 plus attendees and a wide range of topics covered. This year the meeting is being held on Friday 22 November 2019 at Cripps Court, Chesterton Road, Cambridge, CB4 3AD. Registration for this event is now open.
We are putting together a wide-ranging programme for the day, highlighting areas where working closer together can make an impact in human and animal health.
This year confirmed speakers include: Professor Ken Smith and Professor Ravi Gupta from CITIID, Department of Medicine, Dr Stephen Graham, Department of Pathology, Dr Anthony Coyne, Department of Chemistry, Dr Katerina Artavanis-Tsakonas, Department of Pathology, Dr Sander van der Linden, Department of Psychology, Professor Julian Rayner, CIMR, Dr Nicola Moloney, Department of Biochemistry, and more. View full programme on the registration page:
**Call for abstracts**
We are now welcoming abstracts to be considered for 4 minute flash talks and/or posters during the symposium. In addition this year we would like to encourage submissions of Blogs for a Blog competition. Winners will receive a prize and selected blogs will feature on the CID web site. Topics should be themed on infectious diseases, and examples of interdisciplinary projects or transferable techniques are encouraged.

Please email your abstract alw83@cam.ac.uk
Deadline for submissions: Friday 18th October
Monday 20ᵗʰ January 2020
Research students can now book their place on the British Library's Asian & African Collections Doctoral Open Day. The event will take place on 20 January 2020 and is designed to explain the practicalities of using the Library and its services, plus help new PhD students navigate the physical and online collections.
Overall the Doctoral Open Days are a chance for PhD students who are new to the Library to discover the British Library's unique research materials. From newspapers to maps, datasets to manuscripts, ships' logs to websites, our collections cover a wide range of formats and languages spanning the last 3,000 years.
Each day concentrates on a different aspect of the Library's collections and most take an inter-disciplinary approach. As well as hearing from expert and friendly staff, students will have the opportunity to meet researchers in all disciplines. Students are welcome to choose the day they feel is most relevant to their studies.
For details of all the Open Days and how to book please see the website. Places cost £10.00 including lunch. Numbers are limited and, as these events are very popular, we do encourage early booking.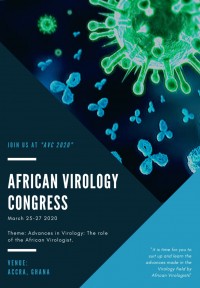 Wednesday 25ᵗʰ March 2020
Advances in Virology: The role of the African Virologist
The upcoming African Virology Congress is the first meeting of ALL African virologists who are based in Africa and Diaspora. It also welcomes non-Africans whose research in virology is directly relevant to Africa. The venue for this meeting, scheduled for the 25 - 27 March 2020, will be held in the capital city of Ghana, Accra. Join us to discuss the current advances in virology and the role the African virologist.