Conferences
Friday 20th September 2019
Review of African Political Economy is seeking an editorial working group affiliate
Eligible candidates should be African nationals currently attached to a UK university for a PhD in the social sciences or humanities with an interest in the journal's academic and activist work. Preference will be given to applicants who will have finished their fieldwork by January 2020, and will be resident in the UK in the following year.
If you are interested in knowing more or in putting forward your name, please submit
the following:

1) A statement on your reasons for wanting to become an affiliate (500 words max).
2) A CV, which should include:
- your name
- name and email address of your supervisor
- country of origin
- area or topic of research
- year of registration
- publications to date
- experience in relevant fields (event organising, IT etc)

The deadline for applications is the end of Friday 20 September 2019. If you have any questions, please contact the Chair of the Editorial Working Group, Hannah Cross. Applications should be returned to Hannah via email at h.cross@westminster.ac.uk.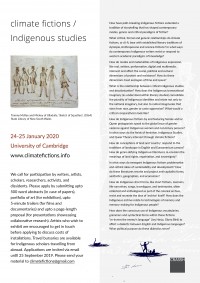 Wednesday 25th September 2019 NEW!
Climate Fictions / Indigenous Studies
24-25 January 2020
University of Cambridge
We call for participation by writers, artists, scholars, researchers, activists, and dissidents. Please apply by submitting upto 500 word abstracts (in case of papers), portfolio of art (for exhibition), upto 5-minute trailers (for films and documentaries) and upto a page-length proposal (for presentations showcasing collaborative research). Artists
who wish to exhibit are encouraged to get in touch before applying to discuss costs of installations. Travel bursaries are available for Indigenous scholars travelling from abroad. Please send your material to climatefictions@gmail.com by 25 September 2019 (Extended Deadline).
The conference is co-funded by the University's Centre for Arts,Humanities and Social Sciences (CRASSH) and would take place in the Alison Richard Building (ARB), with the keynote address at McCrum Theatre, Corpus Christi College, from 24-25 January 2020. It would also exhibit a series of artwork and two plinthed installations from Indigenous artists in the atrium of the ARB from January-February 2020.
Monday 30th September 2019
IUSSP Call for Papers
International Seminar: Looking backward, looking forward: African demography in historical perspective
Nairobi, Kenya 2-3 April 2020 - Deadline for submission of abstracts: 30 September 2019
We invite submissions on historical or long-term, interdisciplinary, perspectives on demographic change in Africa. The aims of the seminar are to review the state of the field of African population history, to consider the role of the past for understanding the present, and to facilitate partnerships and future comparative work on African historical demography. Papers which seek to situate current population trends in historical perspective are encouraged. 
Online Submissions:
The IUSSP Panel on Historical Demography invites researchers to submit online by 30 September 2019 a short 200-word abstract AND an extended abstract (2 to 4 pages, including tables). To submit an abstract please fill out the online submission form: ONLINE SUBMISSION FORM.
The working language of the seminar is English: abstracts and final papers should be submitted and presented in English. If the paper is co-authored, please indicate the names of co-authors. Submission should be made by the author who will attend the seminar. We aim to publish suitable papers in a journal special issue or an edited volume.
Applicants will be notified whether their paper has been accepted by 15 October 2019. Authors of accepted papers must upload the full paper on the IUSSP website by 28 February 2020.
Funding is available to cover the cost of the seminar venue, airport transfers, accommodation and meals for speakers for two days. We are seeking further financial support for travel, but the outcome is uncertain, and participants should seek their own funding for flights, additional accommodation and other expenses. Priority will be given to African scholars, early career researchers and those from developing countries in awarding travel support.
For further information: Please contact Seminar Organizer Sarah Walters (sarah.walters@lshtm.ac.uk).
Thursday 24th October 2019
2019 African Studies Association of Africa (ASAA) Call for Papers/Panels
Call for papers/panels for a bi-annual conference taking place in Nairobi
The African Studies Association of Africa (ASAA) is a multidisciplinary and transdisciplinary professional association on the continent dedicated to the study of Africa from an Africanist perspective. The African Studies Association of Africa (ASAA) was established (in 2013) to promote Africa's own specific contributions to the advancement of knowledge about the peoples and cultures of Africa and the Diaspora.
This is a particularly exciting conversation and association to be part of for those working on the politics of knowledge in/on the African continent.
https://www.as-aa.org/index.php/asaa-2019-conference/call-for-papers-posters-and-panels

(Abstracts for papers and panels are due in May 15 and May 30, 2019)
Thursday 24th October 2019
CALL FOR PAPERS
Theme: African and Africana Knowledges: Past Representations,
Current Discourses, Future Communities
Venue: United States International University-Africa, Nairobi, Kenya
Date: October 24 - 26, 2019
The aim of this year's conference is to invite and initiate a scholarly stocktaking of the knowledge produced by Africans in Africa and the Diaspora in various forms—from scholarly work to artistic expressions—and to examine representations and current African realities and emerging futures with African knowledge. The conference will present distinguished African/ and Africanist keynote speakers, award-winning films, inspirational performances and the opportunity to join pre-conference workshops.

Deadlines: May 30, 2019 (Individual Submissions) / June 15, 2019 (Panel Submissions)

Wednesday 20th November 2019
ASTMH 68th Annual Meeting
November 20-24, 2019 (Wednesday through Sunday)
Gaylord National Resort and Convention Center
National Harbor, Maryland USA (adjacent to Washington, DC)

Call for Late-Breaker Abstracts
Submission Deadline: September 5, 2019
View the Late-Breaker Abstract submission guidelines with link to submission site here.

Please note:
-- The Late-Breaker Abstract submission fee is $75 US.
-- Late-Breaker Abstracts accepted for presentation are not published in the Abstract Book or the Program Book. Late-Breaker Abstracts appear in the Meeting App and the Online Program Planner.
-- Late-Breaker Abstract notices are issued approximately three weeks prior to the Annual Meeting.
-- The majority of Late-Breaker Abstracts that are accepted for presentation will be assigned to poster presentations.
Call for Abstracts
Submission Deadline: April 10, 2019
Abstract notices will be sent in mid-September.
Call for Symposia
Submission Deadline: February 27, 2019
Symposium notices have been sent.
The ASTMH Annual Meeting draws tropical medicine and global health professionals representing academia, government, non-profits, philanthropy, NGOs, industry, military and private practice. The meeting is designed for researchers, professors, government and public health officials, military personnel, travel clinic physicians, practicing physicians in tropical medicine, students and all health care providers working in the fields of tropical medicine, hygiene and global health.
The Annual Meeting is a five-day educational conference that includes four pre-meeting courses and draws approximately 4,800 attendees.