2017 - 2018 Cohort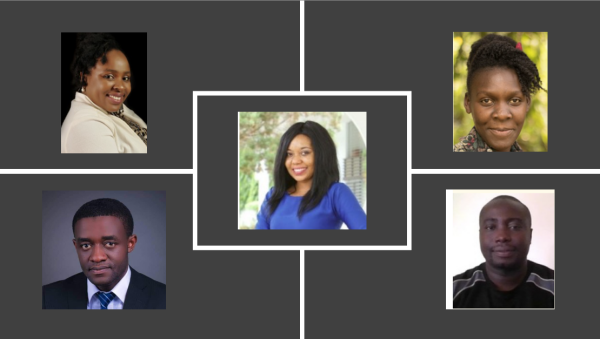 These are photos of the third cohort of PhD students sponsored by Cambridge-Africa when they started in the academic year 2017/2018.
Starting from top left: Chioma, Margaret, Warren, David and Esther (in the centre).
Find out what they are upto below: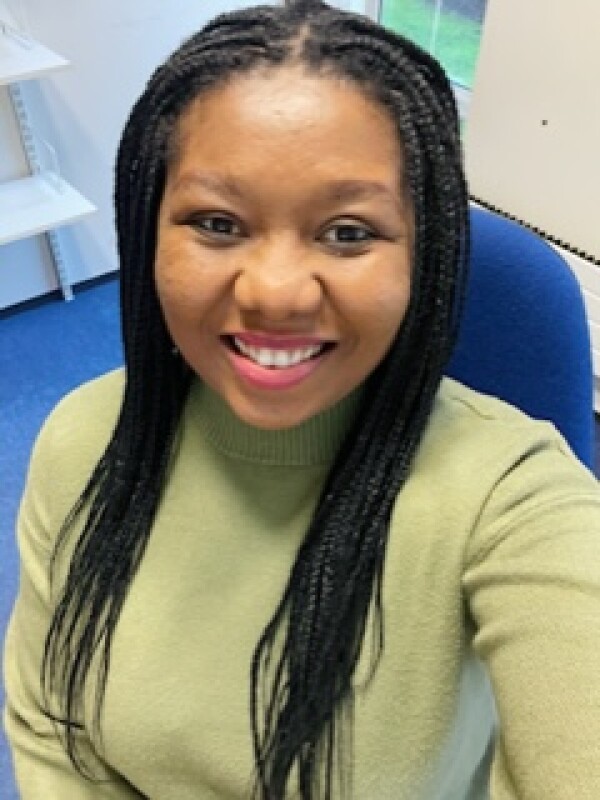 Esther Anwuzia
| | |
| --- | --- |
| Full name | Esther Anwuzia |
| PhD project | Understanding Adolescents' Career Decision-Making and Career Wellbeing in Nigeria: A Mixed-Methods Study |
| PhD Supervisor (Department) | Dr Ros McLell, Department of Education |
| Year of completion | 2021 |
| Email | |
WHERE ARE YOU AT THE MOMENT?
I am currently a Postdoc at Bournemouth University on an EU project titled SPEED-You-UP, tackling inequality and deprivation in coastal communities in England, France, Belgium, and the Netherlands, through an innovative entrepreneurship programme for young people at risk of early school leaving and those not in employment, education, or training.
TELL US ABOUT YOUR TIME AT THE UNIVERSITY OF CAMBRIDGE
You might want to share a bit about your background and what you were like when you started university. How did your interest in your subject come about and what factors led you to Cambridge? What are your enduring memories of your programme, broader student life, work, or extra-curricular activities? Many of you started initiatives and won several awards while still at Cambridge - please mention them here.
I never envisioned myself in the UK, much less as a PhD student at Cambridge. It was not until after my master's programme that I considered the possibility of leaving Nigeria for further studies.
My PhD in Education examined the process of young people's career decision-making and self-actualisation and the influential role of parents and teachers. I was curious (still am) about what kind of home and school environment facilitates or prevents a young person's awareness of their potential, talent, and strengths, given children's socio-economic backgrounds and the predominant cultural values of social and parental expectations, and social comparison in Nigeria.
With no prior experience in the UK education system, I struggled with the imposter syndrome. However, my PhD supervisor and friends within and outside the BAME Cambridge community made life bearable. Meeting and interacting with fellow female African PhD students inspired me throughout my time in Cambridge, and I'm glad I can now call some of them friends. I conducted extensive fieldwork in Nigeria for nine months and found my affiliation with Cambridge University helpful in forging and strengthening new connections. In 2018, I received the Cambridge Grand Challenges award for an internship at Heathrow International Airport, which allowed me to apply my academic knowledge and skills in industry.
TELL US ABOUT YOUR EXPERIENCE SINCE LEAVING THE UNIVERSITY OF CAMBRIDGE
I began my current postdoc role in October 2021, immediately after submitting my PhD thesis and moved to Bournemouth in the same month with my husband and then 4-month-old daughter. I grappled with different life transitions, all new to me – a first-time mum, my first post-PhD job, and a new town. It was challenging. I had my daughter in June 2021 while writing up my thesis, but I was determined to submit it by the September 2021 deadline.
Recovering from the C-section was an arduous experience; the support from my husband, mum, and other relatives at the time of my delivery was a blessing, and I managed to complete my thesis. My mum moved with us to Bournemouth but shortly returned to Nigeria. It was then up to my husband and me to adjust to our new life. The desire to prove myself as deserving and capable of my job and a mum whose daughter could depend on unfailingly often clashed. Slowly but not so steadily, I began to settle into both domains.
Although every day since then has felt like a whirlwind of different emotions, expectations, and demands, I am thankful for the milestones achieved so far, like surviving the first year of being a mum, passing my Viva, publishing the first paper from my PhD, successfully leading the impact evaluation of the SPEED-You-UP project in the UK, and being endorsed for the Global Talent Visa by The British Academy. My daughter is now 19 months old and continues to be more beautiful and spirited. Learning in every aspect of life is endless, but I have grown in confidence as an academic and a mum, and hopeful for new heights.
ALUMNI WISDOM
(what can you tell current Cambridge-Africa PhD scholars)
Your PhD research and Viva are major targets but not the entirety of your PhD. The people you will meet and connections you will make will outlast your PhD, and some will be bridges into the next phase. You will miss home, family and friends you've left behind but look forward with hope and conviction that this moment will translate into outstanding rewards for you and your generation.
Publications
Anwuzia, E., & McLellan, R. (2022). The Role of Teachers in Adolescents' Career-Specific Future Orientation. Cambridge Educational Research e-Journal, 9, 258-270. https://doi. org/10.17863/CAM.90565