AFRICA TOGETHER CONFERENCE 2022 REFLECTIONS
Written on behalf of the African Society of Cambridge University by Martin Wagah, Chair for Communications, ASCU
The 8th Africa Together Conference, ATC2022, shares the unfortunate iceberg effect with many other great human endeavours: only the tip of the iceberg is seen by observers, while the larger structure beneath remains hidden from view. On the 21st of May, 2022, that tip of the iceberg shone brightly, and it was the pearl of all who took part in bringing the conference to fruition. Receiving over 150 attendees from both the global diaspora and the continental African community across all regions of the African Union, it was the largest Africa Together conference yet! The tickets sold out well in advance, and the venue, the Moller Institute at the Churchill College, was exquisite. Everything was finally in place, and the long-awaited day had finally come.
Knowing the colossal task at hand, the incumbent Executive Committee of the African Society of Cambridge University (ASCU) had started planning for this conference as soon as they took office in October 2021. These volunteers, who are full-time students, rose to the task with speed. We continued organizing other society events, such as the popular 'Africa over Coffee' sessions, academic events, BOPs, dinners and mentorship sessions as we laid the groundwork for the conference. We often held meetings even on weekends and hurdled over our laptops long past midnight to finish that 40th invitation letter, or to solve some new challenge that had just emerged, to ensure that ASCU's flagship event returns, as it had not been held for 2 years during the pandemic. We gave our hearts and souls to this conference. And thus, it is with great joy and satisfaction that we witnessed it being executed, and it is with appreciation that we received your compliments about it. Thank you all for joining us both physically and virtually for ATC2022, and for supporting us. We are truly grateful.
For many Africans studying at the University of Cambridge, ASCU is the main answer to the question 'What are you doing for Africa, as a student in such a prestigious institution?'. Through ASCU, students have built structures for connecting with and mentoring their fellows across multiple nations. We have pursued mechanisms for supporting small businesses and start-ups. We have also built platforms for having cogent conversations on critical issues. In addition, we have developed avenues for exporting our cultures to a global audience and bridging continental Africans with diasporic African communities. As ASCU grows, so does our impact as students, and our recent achievements in our society, such as our Advocacy Paper delivered to the Vice-Chancellor's office (whose elements have already started being implemented), are the highlights of our experiences at the University of Cambridge. And likewise, through the ATC2022, many goals were also met, which will colour our hearts for years to come.
In her welcome Address, Ms Alice Amegah – ASCU's President, Chair for the Africa Together Conference and a PhD student of Education in her final year – noted that "ASCU has become a formidable Pan-African students' society, embodying the African spirit of resilience among Africans and African diasporic scholars at the University of Cambridge". All of us share this sentiment. Alice set the stage for ATC2022 from the outset, proclaiming that "…until Africans rise and take responsibility for our socio-economic and political development, our continent will remain an attractive destination for foreign and domestic exploitation." With the bar set high, the speakers had no choice but to deliver. And deliver they did.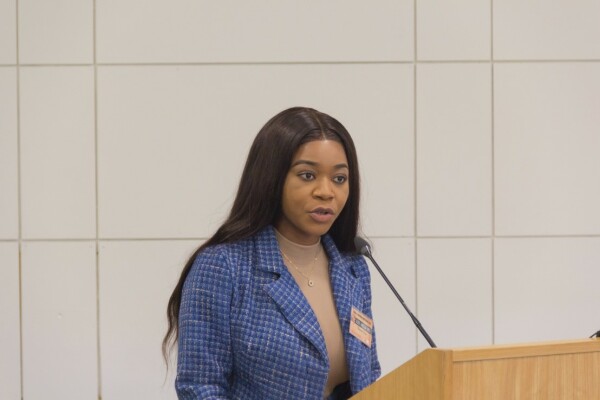 Ms Alice Amegah, President of ASCU, delivering her Welcome Address
Starting us off with an Opening Address was Professor Graham Virgo QC, the Senior Pro-Vice Chancellor (Education) for the University of Cambridge. He started by a frank admission that "The University of Cambridge is nothing without its people," and continued with a recognition that "Africa's history is scarred by those who have failed to acknowledge the humanity of others." As he continued, I was overcome with joy, for the support that his office has offered ASCU has been both considerable and impactful. It was a good sign to see the University of Cambridge's top administration keep its promises and continue to engage directly with its students. We appreciate that unlike in many other intitutions, we have not been made to prove our humanity at the University of Cambridge, and that the prevailing leaders not only support but also encourage us to thrive.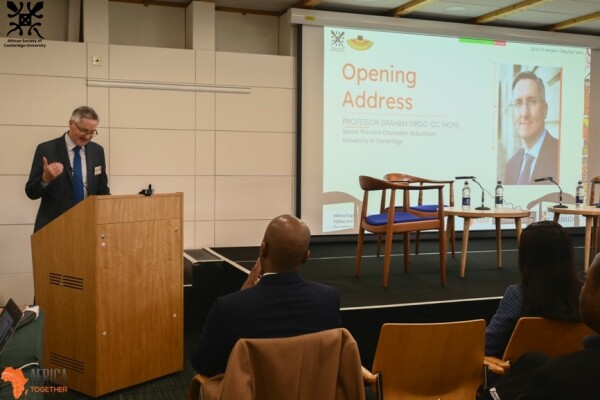 Professoressor Graham Virgo QC, delivering his Opening Address
In the First Keynote Address, given by Rosalind Kainyah MBE, sustainability was the subject that carried the day. "Sustainability," Rosalind declared, "is the underpinning of whatever success Africa will have in the future." "As we develop," she expounded, "we must learn to meet our present needs without compromising the ability of future generations to meet their own." She also maintained that "Africa does not need to follow the same path as other industrialized nations." Doing so would condemn Africa to always playing catch up in the global arena. As Africans, we must, therefore, innovate and chart our path as we learn from the mistakes of others. With this in mind, the 1st panel kicked off.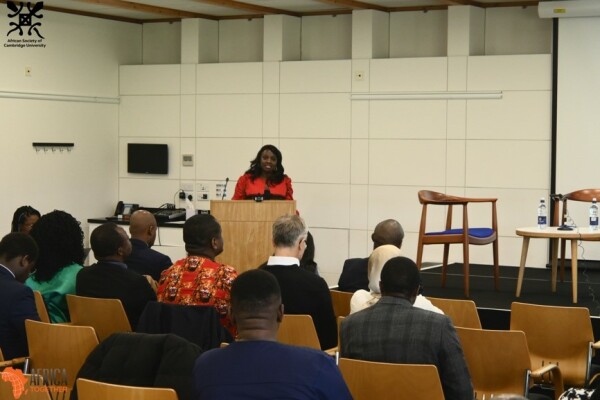 Rosalind Kainyah MBE, delivering the First Keynote Address
Tackling Leadership and Security, the first panellists were Dr Anino Emuwa, Ms Fadzayi Mahere, Dr Justice Tankebe and Dr Solomon Ayele Dersso, moderated by Mr Stephen Buabeng-Baidoo who is an ASCU member and Chevening Scholar '21 pursuing his Masters of Law at the University of Cambridge. As the panellists navigated the delicate subjects of government militarization and tribal and ethnic tensions, Ms Fadzayi warned that "There is no such thing as rock bottom in Africa: things can always get worse." In contrast, Dr Anino indicated that we should "never let a good crisis go to waste". Stephen, also an Associate at the African Union in the Office of the Legal Counsel, led the panel through these landmines with jovial candour and emptied his quiver of questions with mastery. He posed the questions that we all wanted to hear, regardless of how difficult they were for us to accept. Not even the audience was spared from his wit, as Stephen reminded them that "If we do not take part in politics, we will be led by buffoons."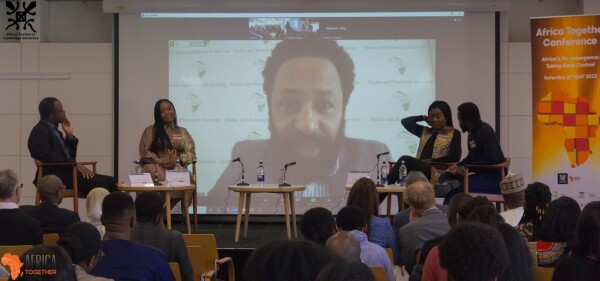 Panel 1: Leadership and Security
The second panel, which discussed Indigenous Business and Innovation, was ushered in by Eugene Nizeyimana who delivered the Second Keynote Address. His decades of working across multiple markets provided excellent perspectives, especially for the conference's theme. He advised that we should "look at Africa re-emerging both locally and globally".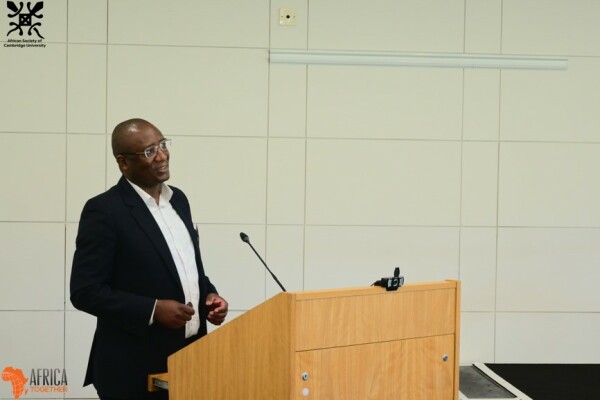 Eugene Nizeyimana, delivering the Second Keynote Address
Right on cue, Dr Sangu Delle's opening remarks exposed the audience's pessimism on business in Africa, where some people believed that not a single company on the continent is valued at over a billion dollars. The correct figure is close to 500. Ms Nyasha Gwatidzo, Ms Mame-Yaa Bonsu and Mr Andrew Takyi-Appiah wore their experiences on their brows to accompany Sangu's vibrant realism, as they were moderated by Eugene Nxumalo. Despite passionate disagreements across the panel concerning what one needs to succeed as an entrepreneur, a consensus was reached: Africa needs a re-awakening, which should start at the curriculum level. We need to bring entrepreneurship to the classroom, to ensure that we will eventually have people who look like us at the decision table.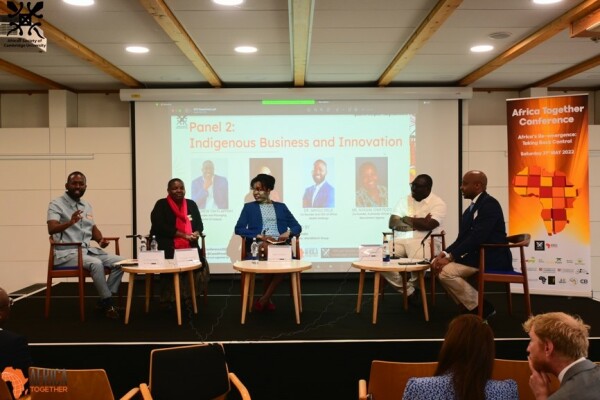 Panel 2: Indigenous Business and Innovation
The most anticipated guest, Her Excellency Dr Arikana Chihombori-Quao MD, delivered the Third Keynote Address. Although she was speaking to us virtually from Zimbabwe, the essence of her soul was palpable within the room as if she was right there with us. Hers was a boldness that inspired a change of pace. It was a call to re-examine the basics that had led us here as a continent.
She pointed with little controversy that "Our beloved continent is under siege", as it has been for hundreds of years now. "It is not a coincidence", she added, and I agree, "that the richest continent on earth is also the poorest continent on earth". She advised the audience that "the image in the mirror is who [they] need to ask questions". And the questions they must ask themselves are legion: why do we use some words and colours to refer to ourselves, why has justice for historical transgressions been delayed for so long, why are there asymmetries regarding how African nations are treated in the global arena…?
In the spirit of togetherness, she reminded us that we must "come together and speak with one voice", and tell the world the truth that "Africa is not a diseased and dying continent. [The world should] see Africa with 20-20 vision: the continent that has it all". The audience hardly allowed her to let a paragraph in as they received her words with applause. The truth is often heavy and unbearable, but we must learn to bear its weight if we are to have a chance at redemption: and if we can, we must welcome such truths with applause and take them to heart.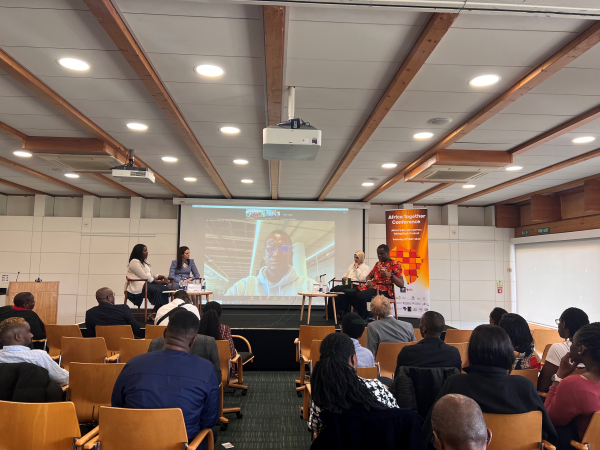 Panel 3: Africa's Future Pitch
The final panel ushered the maiden Africa's Future Pitch, where the top start-up finalists of our competition presented innovative community development projects for prizes, feedback and potential investment offers. This was another direct opportunity for students and scholars from various backgrounds to interact with the African start-up ecosystem. The judges were Mr Lamin K. Daboe, Dr Khadija El-Bedweihy, Mr Ikenna Uzoh and Dr Patrizia Vecchi. They were moderated by Ms Angela Khakali, a Chevening Scholar pursuing an MBA in Finance at the Judge Business School of the University of Cambridge.
The finalists were Capsule, a Technology & Business Intermediator for lending to SMEs; Uku'hamba Prosthetics and Orthotics, which deploys digital technology for optimizing the development of prosthetic limbs and orthosis for the less; and SuaCode.ai, an EdTech AI startup that is democratizing science and technology education across Africa using smartphones and Artificial Intelligence. Although SuaCode.ai emerged number 1, all three start-up companies were finalists, and all were rewarded. We expect that with the help of partnering institutions such as the Judge Business School, the next Africa Futures Pitch will be even bigger and better!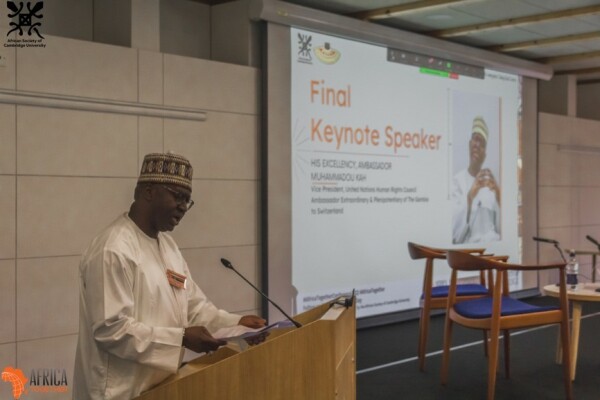 The Closing Keynote Address, by His Excellency Ambassador Professor Muhammadou M.O. Kah, PhD
His Excellency Ambassador Professor Muhammadou Kah, the Ambassador & Permanent Representative of The Gambia to the United Nations, delivered the Closing Keynote Address. He captured the conference with the balance of an experienced diplomat and with the sharp clarity of a seasoned academic. "A return to ourselves," he said, "calls for a reclamation of our narratives." And onward, he outlined additional areas where the young generation must take back control in their quest for improving the continent. "To take back control…of Africa's re-emergence, we must start with the pursuit of education!" He continued, "To truly take back control, we must start at the top. Our leadership must drive our re-emergence." This is because "…our leadership must take back control of our resources and re-centre them as the building blocks of our development". In addition, "we must embark on digitalization of government processes… and sustainable and innovative financing."
As was also reiterated by other speakers, he insisted that "Africa will not re-emerge and take back control without equitable representation of women in leadership." Also a realist at heart, he acknowledged the dilemma that many diasporic Africans feel: "The call to return home is not easy to answer when home seems broken beyond repair." He advised that "We all have a collective obligation for Africa's future…we must not throw our hands up in despair." We have thrown up our hands in despair for far too long. If not now, when shall we act?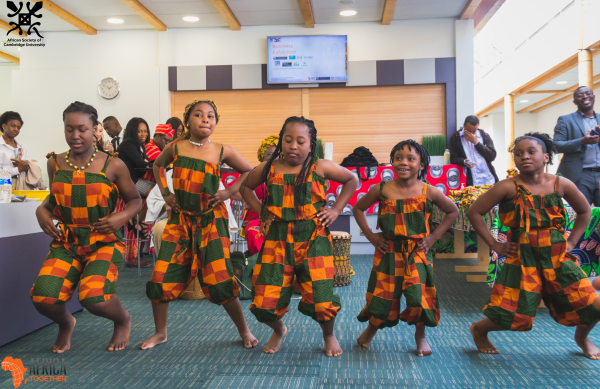 A cultural dance from Efua Sey Cultural Academy
Although the panels and speeches were very exciting, the conference had much more to offer. In-person attendees had the luxury of viewing an Art Exhibition, courtesy of the Museum of Archeology and Anthropology of the University of Cambridge. Among the artefacts on display was a wooden replicate of the famous Benin bronze, which echoed our theme of "Taking back control". The artefacts offered us an opportunity to reflect on the significance of such items that are found far from their native lands in many museums across the world, whose functions are lost to even those who possess them today. Next door, a Business Exhibition was also in place, featuring companies such as ClicknPay Africa, Zimbowties, BijouCREATES, McKinsey & Company – Africa, and many others. We were also treated to a cultural dance from Efua Sey Cultural Academy, whose beautiful faces, enchanting drums and authentic dance set our hearts aglow. Many of us were unable to resist the call to dance, and so we swayed in place to the beat as their rhythms animated us.
As the conference came to a close, we all pilgrimed to the Cambridge Hilton for the Afro Ball, to scratch the itch of dance that had been ignited in us. After the Welcome Address by the Master of Ceremony, we enjoyed a remarkable spoken word performance from Mr Kenneth Aliu, an ASCU member pursuing his Masters of Philosophy in Criminology Research. Soon, after we had dined, the music was unleashed upon us to celebrate the last hours of the successful day.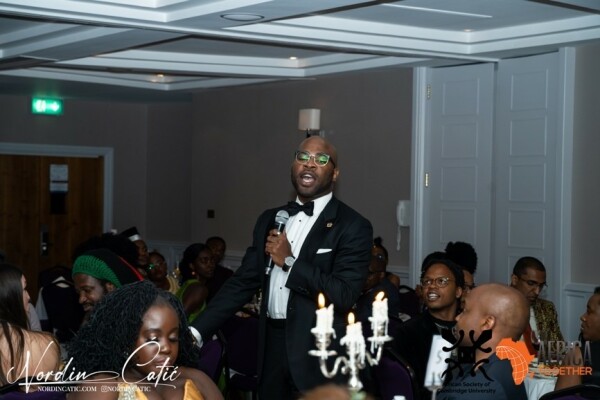 Mr Kenneth Aliu, delivering his spoken word piece at the Afro Ball
With a glass of red wine in hand, I watched my African fellows revel in dance, and wondered whether this would have been possible in such a place just 100 years ago. I marvelled at this tip of the iceberg before me, of the visible success of the Africa liberation project that started many years ago, but acknowledged with unease the vast structure underneath that must have made all this possible. How painful the losses, how grand the sacrifices that must have been made, so that a young man born in the Savannah can congregate with his fellows in a place such as this, while clasping a glass of fine wine in his hand.
In her closing remarks, our ASCU President and Chair of the Africa Together Conference, Alice Amegah, asserted that "we strongly believe that we have planted over 150 ambassadors of the renewed commitment to Africa's self-sustaining Agenda across the world." I agree with her. She added, "We expect to see these seeds…bloom for the economic, social, and political freedom of our beloved continent, Africa." It is here that my optimism is tempered. Having seen just how much we struggled as an Executive Committee to bring a one-day conference to fruition, I am not convinced that we are close to blooming.
I fear that such expectations must have been present in Addis Ababa between the 22nd and 25th of May, 1963, as delegates from 32 African countries convened to chart Africa's future at the invitation of the Ethiopian Emperor Haile Selassie. They dreamed of economic, social, and political freedoms for our beloved continent. However, what they have achieved so far pales in comparison to their dreams, such as Osagyefo Kwame Nkurumah's 'effective machinery for achieving African Unity' and pursuing a common foreign policy and diplomacy, a common system of defence, a common African citizenship, and an African currency. But their sacrifices have allowed their grandchildren to pursue an expert education as equals on foreign soil, so that they may revisit the problem of Africa's Re-emergence while equipped with the best education possible. This is progress, but it is far from good enough.
But even though the journey is long and dreary, every step we take leads us closer to our destination. And without a doubt, for Africans at the University of Cambridge, ASCU's Africa Together Conference 2022 has been one of our biggest steps forward thus far.