Cambridge-Africa Scholars Feb 2021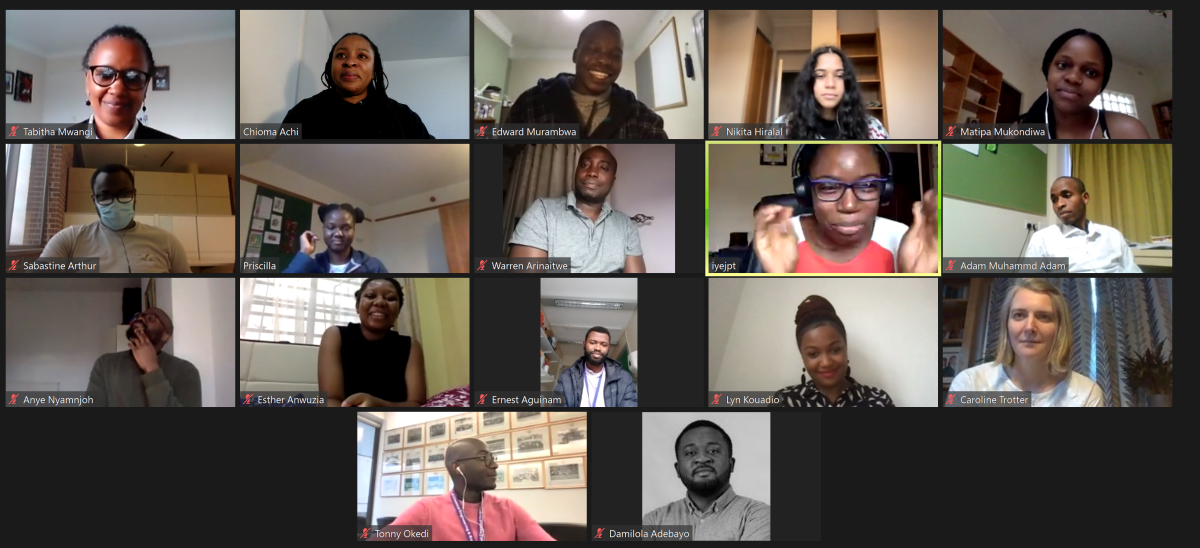 Cambridge-Africa Scholars Touch-base – lost count of the days in!
Written by Dr Chioma Achi
Friday, the 12 of February 2021 was another fun moment with Cambridge-Africa Scholars. This time around, we had in our midst, the new C-A Programme Manager – Dr Tabitha Mwangi, who was introduced by C-A Director – Dr Caroline Trotter. It is no coincidence that this jolly good moment was only a few days to Valentine's day and thanks to the lockdown and covid restrictions, we could not spoil Tabitha with some good treat. However, in the attempt to welcome her to the C-A family, we took a trip down the hobby/interest way.
On what items Tabitha would take to a desert, she said she would take books (fiction and African literature and the bible) and musical albums on the assumption that everything regarding food and water would be sorted. Not so surprised about the books' option, coming from someone who has written several short stories herself. On whether she would chase one elephant or 20 ducks, Tabitha smilingly went the duck way, although a veterinarian by training, Tabitha said she was yet to find the strength to restrain an elephant! As the discussions progressed, we were let into Tabitha's interest in promoting science in Africa and telling the stories of African Scientists. She did not hesitate to whet our apetite regarding East Africa's delicacy – Ugali and Nyama Choma. As you would imagine, the consensus is that we all cannot wait to have some taste of that home cooking!
The Scholars also took turns throwing questions at each other. There were very random questions ranging from the best food to worst fear, coping during the lockdown, hobbies, what country makes the best Jollof (feel free to take a guess J), favourite outdoor activity, first activity post-lockdown to current locations of Scholars. In the C-A family spirit, we also got Tabitha to throw some questions at Caroline. Interestingly, it was only then that we discovered Caroline's love for the cello, an instrument she had played for most of her life. We definitely need to take on more question series – you never know what we will we learn! We ended this session with C-A Scholars contributing to Caroline's African literature reading list.
I do not consider myself a great writer, but I hope you can at least tell that we did have a fantastic and de-stressing catch-up session. We are indeed glad to have Tabitha join the C-A family.