Elective placement at the University of Cambridge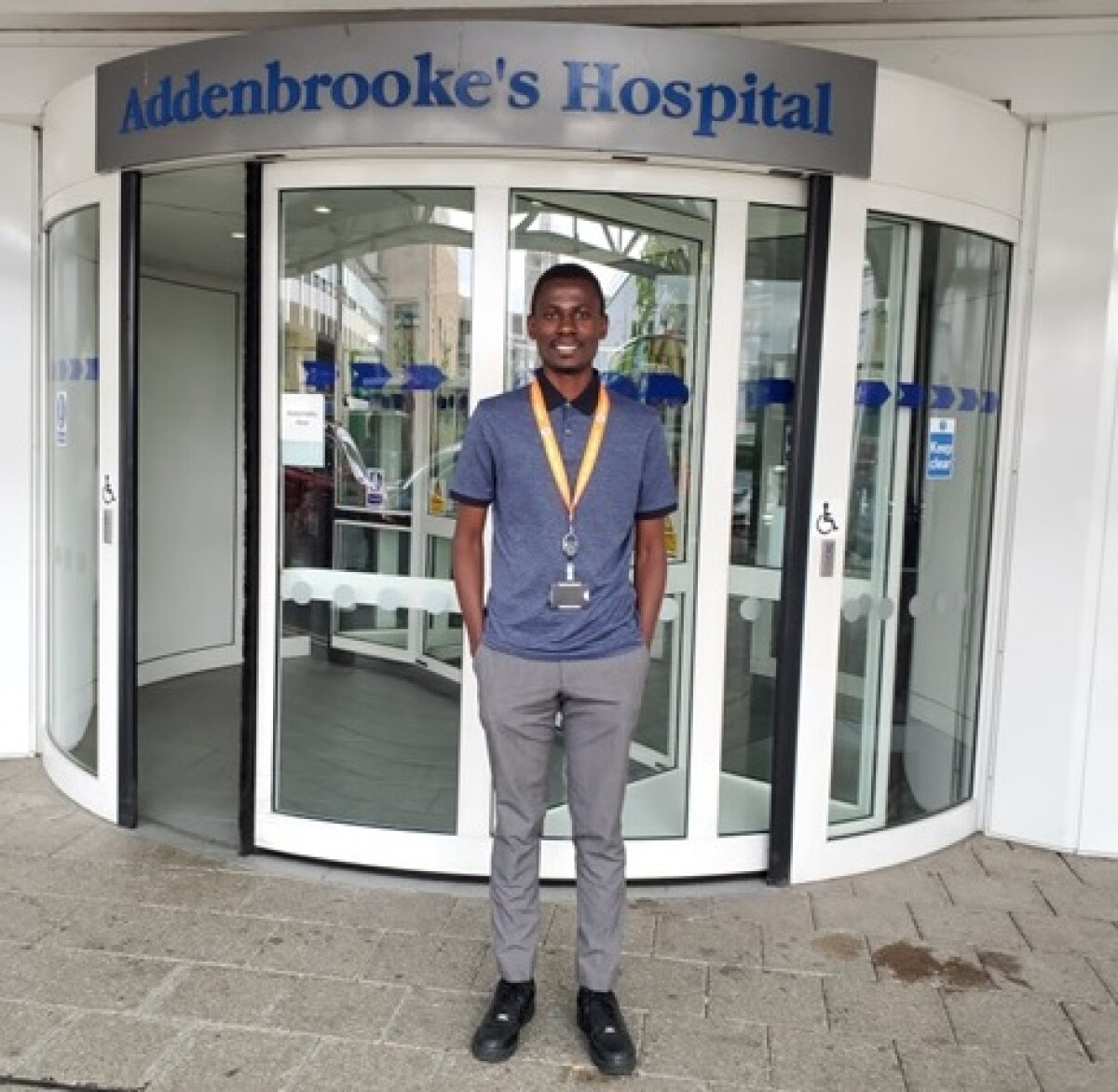 In May 2021, I was selected along with my good friend and classmate, Abraham Matovu, for the elective placement in Haematology and Oncology at the University of Cambridge. Following a whole year's wait, due to the uncertainty of the COVID-19 pandemic travel restrictions, I was thrilled to finally travel to the United Kingdom in June, 2022. This was my first time to leave Uganda not to mention using air transport and my excitement throughout the journey was hard to contain.
I was cordially welcomed by the elective students' coordinator after which I met our supervisor, Dr. Martin Besser, who was extremely resourceful to me throughout the stay. He offered to give me a tour around Addenbrooke's hospital and introduced me to my oncology coordinator, Dr. Fiona Harris, as well as the different consultants and nurses in the hematology department. This eased my interactions and created a conducive environment for my learning.
I met up with the other elective students from other parts of the world that were in the same block 5 a few days after starting my placement. They were very friendly, fantastic and approachable and we soon became family. I remember each one of them by their name - Kunalika, Deni, Andrew, Lucas, Leonie and Leandra .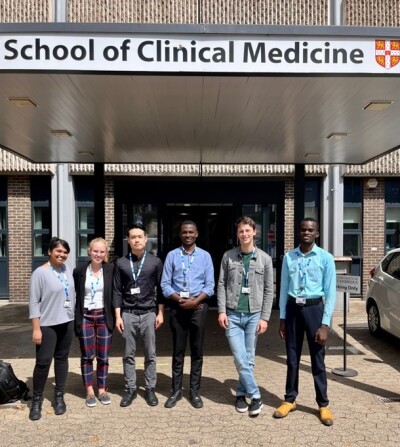 We travelled and undertook various recreational activities together in the Cambridge city Centre including punting at River Cam. We visited the Cambridge University Botanical Gardens, Parker's Piece, Jesus Green, The Box House, Fitzbillies, Fitzwilliam Museum, The Chop House, The Town and Gown Pub and Theatre and the Cambridge colleges. My favourite was punting. It is so beautiful especially when I tried rowing the boat and had a good view of the colleges that are along River Cam.
The Cambridge-Africa day was celebrated during the summer on 6th July 2022 at Emmanuel College. I was privileged to meet all the people that I had been communicating with via email as well as the Cambridge-Africa officials.
It was great listening in to the key note speakers at this event including Professor Samba Sow and Professor Nelson Sewankambo. It was a pleasant surprise to meet Prof. Suzanne Turner who collaborates with the Uganda Cancer Institute on this day.
I was humbled to meet Evelyn Brealey, the director of Cambridge Global health Partnerships (CGHP) together with Fiona Elliot. CGHP is already having collaborations with Kawempe Women's Hospital in Uganda. It was beautiful sharing my experience on how I had been treated well in the UK. They shared that they also had a fabulous experience while in Uganda. The two went on to introduce me to the different departments including intensive care unit, microbiology, obstetrics and gynaecology and the Rosie hospital which is part of Addenbrooke's hospital but was specifically designed for deliveries. Having already had my rotation in obstetrics and gynecology in my 3rd year at Makerere University, it was so obvious for me to make comparisons between the Rosie and Kawempe Hospital in Uganda. The day came with so many beautiful memories and was concluded with a dinner at Clare College, another chance to connect and make friends.
Meeting up with the Ugandan community in England was so exciting. I felt more at home and I was glad to see more successful collaborations between UK and Uganda.
I have fond memories of my two trips to London. On the first, I watched the change of guard at Buckingham Palace then went to the Trafalgar Square that is opposite Uganda house after which I had a boat cruise on River Thames. The tour guide made it more worthwhile as he explained the history of everything. I had a view of the London eye, St. Thomas hospital, Houses of Parliament, and the Tower of London Bridge, all cites I had seen only in movies. I concluded the day at Stamford Bridge, the home of the blues. Being a big fan of the premier league, it was inevitable for me to leave London without visiting a football stadium. On the second trip, I opted to use the underground train and getting off at the St. Pancras International, headed to Arsenal to visit the Emirates stadium, the home of the gunners.
I made as many friends as I could, whenever I had chance to, I bought souvenirs to help keep those beautiful memories alive.
I am grateful to Cambridge-Africa, University of Cambridge and Makerere University College of Health sciences for making this elective possible. Studying at Addenbrooke's Hospital gave me a touch of how Medicine is practiced in a first world country. I can guarantee that the knowledge and exposure I gained will shape my practice of medicine in the future. One big take home for me was the role of international collaborations and how exposure to practice from other parts of the world can help bridge some of the gaps in both knowledge and practice.
The writer is Natukunda Ferguson, a 4th year student of Bachelor of Medicine and Bachelor of Surgery at Makerere University in Uganda which is celebrating 100 years this year.