My journey to Cambridge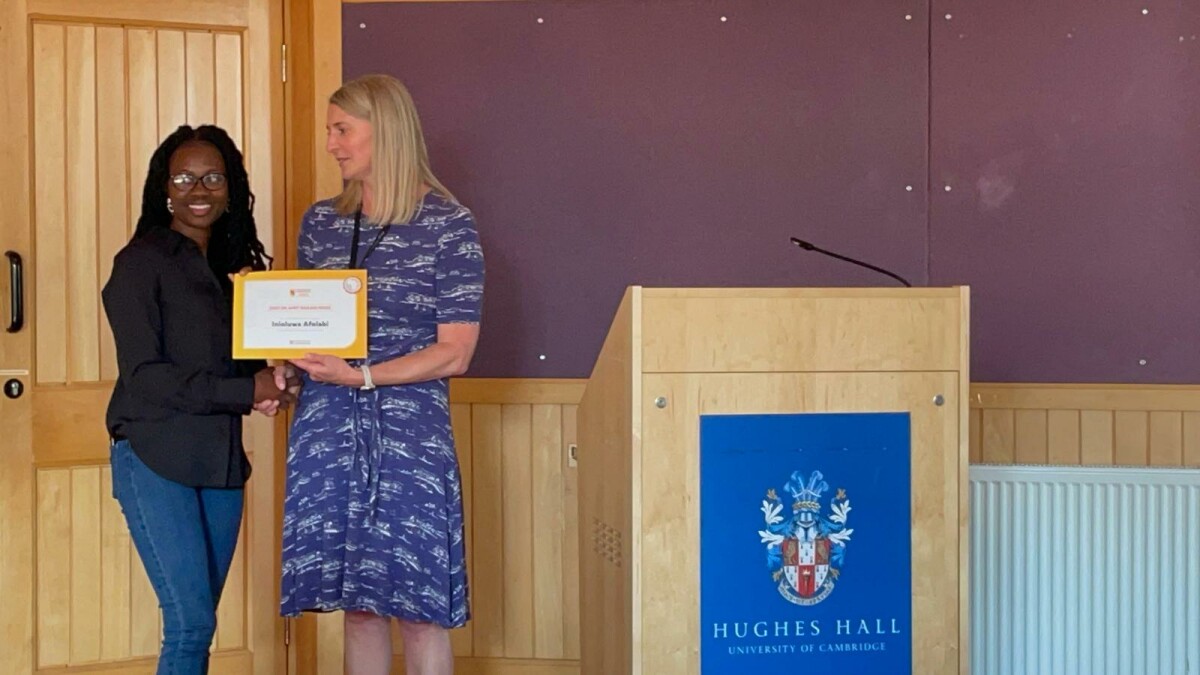 Inioluwa Afolabi was awarded the Cambridge-Africa Amit Bhasin* Prize for 2023 in recognition of being an outstanding African student in Cambridge. Inioluwa is interviewed by Corinna Alberg, Co-Programme Manager at Cambridge-Africa, on her journey to Cambridge and her contribution to student life in Africa and Cambridge and on assisting others to study in Cambridge.
Can you tell me a bit about your life in Nigeria before coming to the UK?
I grew up in Ogbomosho, Oyo state, Nigeria, as the third child in a family of four. My early days weren't free from struggles, however, despite all these challenges, my parents' unwavering commitment and sacrifice to provide us with a quality education instilled in me a fierce determination for excellence. At that age, excelling in my studies was the only way I could reward my parents for the sacrifices they had made. My parents' outlook, their faith, and the value they placed on education were important in my formative years. My Christian faith is also a bedrock of my life and core values.
What activities were you involved in outside of your own education?
Since my mother worked in administration in a public secondary school, she often identified brilliant yet less privileged students in her school and brought them home for me to tutor using the knowledge I had gained in school. Sometimes, she went to great lengths to gather textbooks and secure a classroom for me over the weekends, all to make a positive impact on these students' lives. I think those kinds of attitudes of hers made me realise you don't just think about yourself alone. Think of other people when you have the opportunity and look out for ways to help people. I continued tutoring through my undergraduate degree and did outreach work with rural schools to help children understand the impact of education. As a member of a career coach organization, we also helped students identify their career path and what would be a fitting course for them at the university.
Why did you decide to apply to study in the UK?
My husband was doing a PhD in the UK, so I moved to join him, but since I have always loved research too, I felt it was the best time to further my education in a context where the research has real-world applications.
Why did you decide to apply to Cambridge University?
I never thought of Cambridge because of the high financial implications, and to study in the UK, I knew I needed a scholarship. I saw the possibility of coming to Cambridge after seeing the advert for the Gates Cambridge which is targeted towards international students.
How did you find the process?
When I contacted my potential supervisor, I was introduced to a postgraduate student in the department who mentored me through the application process. The mentorship was a rigorous and rewarding process. I would send a draft of my application and he would give me feedback and explain that I had to emphasise my strengths and the impacts of my voluntary roles. With his help, I was able to produce a quality application.
What were your first impressions of Cambridge?
My first impression was feeling very happy when I got to my department and felt that this is the place where Nobel Prize winners are trained. I had always believed Cambridge is one of the places where innovative and impactful science is done and being here will equip me to become a good scientist – that has kept me going. My impressions have been further reinforced as time has gone on. That is why I decided to stay on after my master's and do a PhD to get more transformative experiences and training the University has to offer.
Tell me about the course and how you found studying here.
I have been doing an MPhil in theoretical chemistry, looking at the properties of materials for CO2 capture at the atomistic level– my background was in experimental chemistry, so it is a new field for me. However, I am grateful for being in a well-nurtured group where knowledge-sharing and well-being are core values. Being surrounded by other bright students has not only challenged me every day but has equally given me the opportunity to learn new things which really helped me to settle well into the new field.
What non-academic activities have you been involved in?
I worked with ASCU (African Society of Cambridge University) as the co-director of logistics for the 2023 Cambridge Africa Together Conference. I have also been working with CAMP, a mentorship programme for African students planning to apply to Cambridge University.
Having benefitted from mentorship, I wanted to pay back for other students. Also, having navigated both the realms of rejection and acceptance in relation to the Gates scholarship, I am eager to share my experiences through mentorship with other prospective African applicants who aspire to seize such a remarkable opportunity for quality education within the esteemed halls of Cambridge.
CAMP is a way of increasing the number of Black students in the University. Through CAMP, with the commitment of our mentors, we hope to guide and inspire 60 potential African applicants in their journey towards the Cambridge application process. As co-chair of CAMP, my motivation to support mentees unable to afford the MPhil application fee drove me to apply for the 2023 Cambridge Africa Dr Amit Bhasin Prize. I am thrilled and deeply honoured to have been selected as the recipient, which comes with £500 which will help fund African students' application fees. The key lesson I have gleaned from receiving this award is that we rise by lifting others.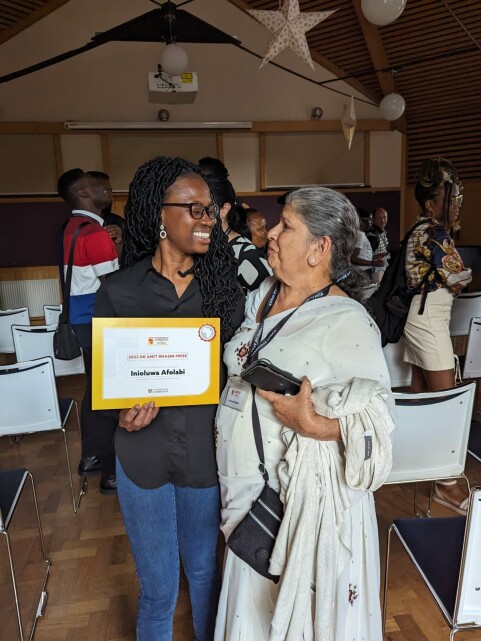 Inioluwa with Subash Bhasin, Amit's mother
If you could offer a piece of advice, a tip or simply some words of encouragement to those who have travelled from their home countries in Africa to undertake their studies at the University of Cambridge, what would it be?
Be kind to yourself – when you come to Cambridge it is overwhelming but if you have been admitted, they believe in your potential and ability. If you keep comparing yourself to others around you, you will bury your confidence - just realise that learning takes time. Just be calm and patient with yourself – it will be fine, and you will do well – I am living testimony to that! I believe every African has the resilience to push through.
---------------------------------------------------------------------------------------------------------------------
* Dr Amit Bhasin was the Programme Manager of Cambridge - Africa and a hugely popular colleague and mentor within the University of Cambridge and beyond. His colleagues and friends have raised funds to award an annual prize to an outstanding African student in his honour.