Our first visit to Uganda, participating in the MUII AGM and recruiting for the CRUK-CI Summer Research Programme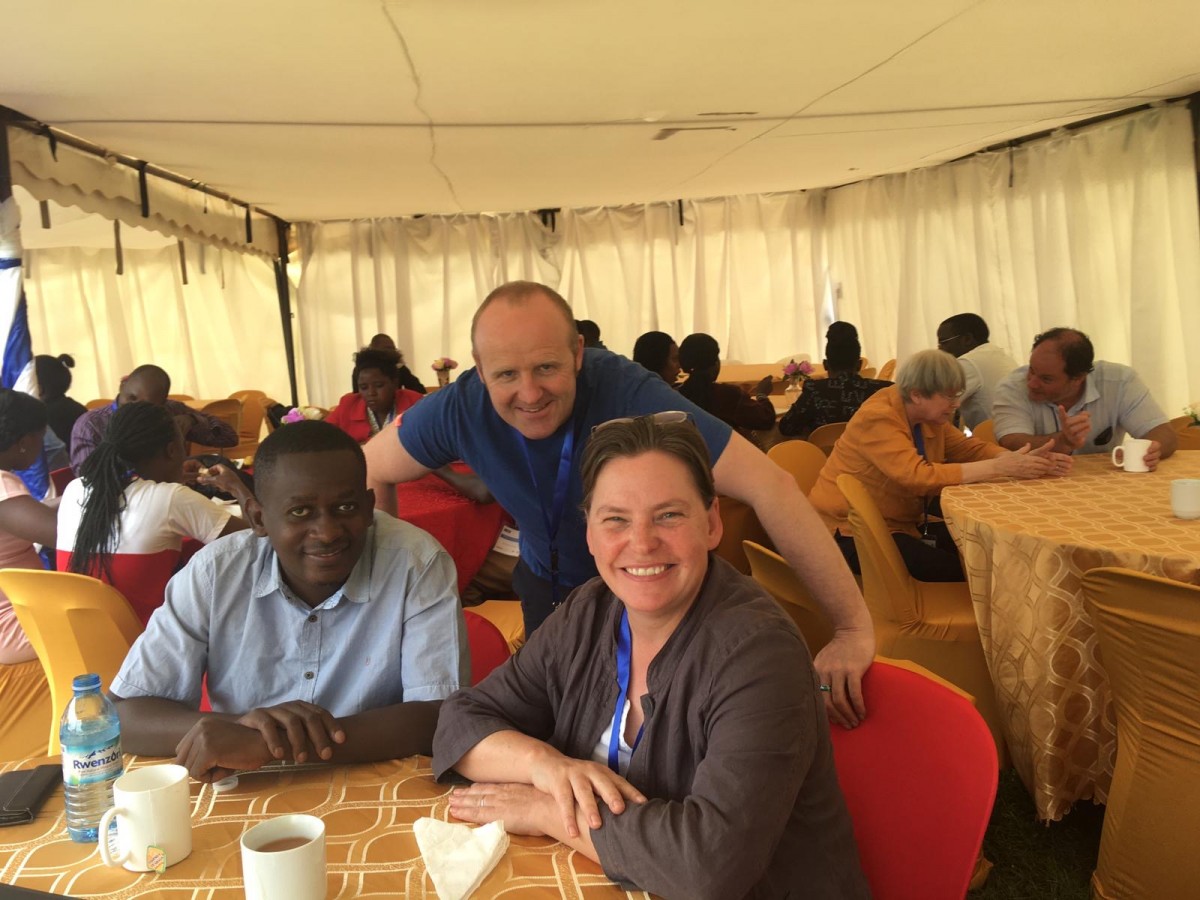 Written by Dr Mike Gill and Dr Davina Gale, Cancer Research UK Cambridge Institute
On the 7th February 2020, myself (Mike Gill) and Davina Gale, both scientists at Cancer Research UK Cambridge Institute (CRUK-CI), travelled to Uganda. We were both excited about the trip as it was the first time that either of us have been able to visit this beautiful country. The purpose of our visit was two-fold. Firstly, we were there to interview master students for two positions on the CRUK-CI Summer Research Programme. This programme is a new initiative that will provide 12 international students from around the world access to a 10-week summer placement in the institute, to inspire bright and ambitious students in the field of cancer research. Secondly, we were invited by Cambridge-Africa to attend the Makerere University – Uganda Virus Research Institute (UVRI) Centre of Excellence for Infection & Immunity Research and Training (MUII) Symposium and Annual General Meeting, as they prepared for a major pan-Africa funding bid.
We arrived in Uganda to sunshine, warm temperatures, beautiful birds, and super friendly people. Of course, as you would expect, we were going to miss the grey skies, clouds and delicious UK food for the next 10 days but we assumed we would survive! Upon our arrival we were collected by Derrick, who took us to our guest house, which was like a tropical getaway with amazing gardens, lovely rooms, super food, and above all, hosts who welcomed and looked after us as if we were family.
Ugandan people are exceptionally warm and engaging, and throughout our trip people went out of their way to make sure we were always looked after. I spent 5 hours visiting the Uganda Virus Research Institute (UVRI), Entebbe, something of great interest to me given my many years spent working the field of herpes virus research. During the time, I was taken on an extensive tour of institute hosted by Dr. Deogratius Ssemwanga, a Senior Scientist, and also spent time discussing research with Prof. Robert Newton, a professor in Clinical Epidemiology. Whilst I visited the UVRI, Davina spent time at the Uganda Cancer Institute with Dr. Nixon Niyonzima (Lab Director and Head of Research and Training), and Paul Katongole and Henry Wannume, who both did summer placements at the CRUK-CI last year in the Rosenfeld and Caldas labs respectively. Davina had a good opportunity to meet everyone, and visit the UCI, the hospital and a new building which is currently being built which will provide expanded cancer research facilities once completed. Both myself and Davina felt privileged that so many people took time out of their busy schedules to spend time hosting us and discussing their current and future research objectives and plans.
In order to recruit for CRUK-CI summer students, Davina and I travelled to the Uganda Cancer Institute which is located in the capital, Kampala. We interviewed nine students for two positions. We were very impressed by all the candidates, who had obviously worked very hard and invested considerable effort to gain experience in biological and cancer research. All of the candidates presented themselves well during the interview process, and it was a privilege to be on the interviewing panel. After extensive discussion, we selected the two strongest candidates, both of whom were extremely enthusiastic and passionate about their chosen areas of research. It was a hard turning down the other candidates, but we knew that they all gained something from this experience, and we wish them every success in their future careers. We look forward to welcoming the two selected candidates when they arrive in the UK for the CRUK-CI summer program. We are convinced that this experience will enable them to foster good links with the international science community and provide an exciting opportunity that will potentially help shape their future careers in cancer research.
For the remainder of our visit we attended the MUII AGM. During the AGM we presented a lecture focusing primarily on the current trends in cancer immunotherapy, together with a brief overview of work being undertaken in the Miller lab here at the CRUK-CI. We listened to some inspirational talks during the meeting from people who had devoted their careers to helping others in the field of both infectious diseases and cancer in Africa. We also took part in a mentoring scheme where we chatted to students about their current research interests and potential career directions. Davina and I both found this a highly rewarding experience. All of the students we chatted to during this time were engaging and interested in the science happening internationally. We also spent time participating in group discussions to help contribute to the strategic plan and structure for the research funding bid. It was very interesting to hear about the active and proposed research in Uganda and in other associated African nations who will be part of the funding bid, including research institutes based in Sierra Leone and Cameroon.
Our visit to Uganda was an amazing experience, and one we would like to repeat next year if given the opportunity. It was great to be involved in helping to foster further links between the Cancer Research UK Cambridge Institute, Uganda Cancer Institute, Cambridge-Africa and MUII, and we look forward to welcoming the students to the summer research programme, who we hope will be inspired to further develop cancer research in Uganda.
To learn more about the CRUK-CI Summer Placement Programme, see the links below:
https://www.cruk.cam.ac.uk/jobs-and-studentships/undergraduate-summer-research-programme