Prof Arthur Kwizera's path to critical care innovation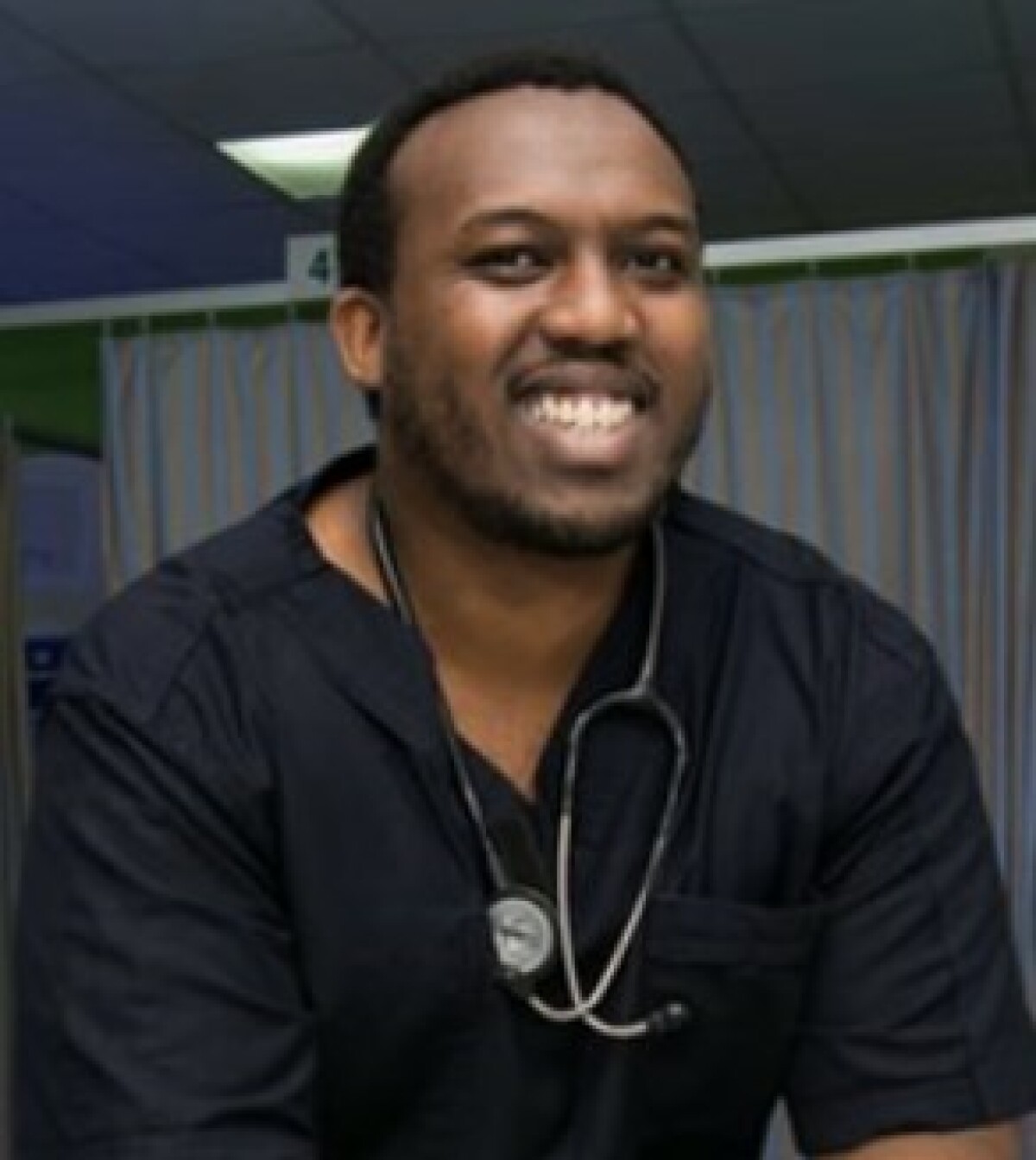 Associate Professor Arthur Kwizera is a medical doctor who has specialised in anaesthesiology and intensive care. He is currently completing his PhD while working at the Makerere University College of Health Sciences in Uganda.
As a child, Prof Kwizera and his family escaped Idi Amin's Uganda and set up home in Kiambu, Kenya. His paternal aunt, who Prof Kwizera considered very king and compassionate, worked as a doctor in Kiambu. As a little boy, he thought that his aunt looked very cool with a stethoscope around her neck. When the war in Uganda was over, the whole family returned home, including his aunt. She helped with the Primary Health Care efforts in Kigezi, for which, she was highly regarded. Prof Kwizera wanted to be just like her and followed in her footsteps.
After completing his medical training at Makerere university, Prof Kwizera took a work trip to the UK. At that time, he was considering either being a surgeon or internal medicine physician, but an experience at work changed his mind.
'During a surgical case were the patient ended up in an intensive care unit, I saw what the anaesthetists did. Solving real time physiological problems and how clever they sounded, and decided to consider a career in anaesthesia and intensive care,' said Prof Kwizera.
When he returned to Makerere he undertook a Master of Medicine in Anaesthesiology and critical care, after which he proceeded for a short course on intensive care at the University of British Columbia in Canada.
On his return to Uganda, Prof Kwizera was bubbling with ideas on how to revamp the teaching of intensive care at the university but the barriers in his way were difficult to ignore.
'Even if we changed the curriculum, we were still going to be teaching things that we did not have local evidence for. The only way to generate this data would be to conduct research and the only way I could think of doing this was to undertake PhD training,' Prof Kwizera said.
His search for PhD scholarships hit a wall time and again as most programs targeting African scholars, lacked a clinical focus or focused solely on HIV, TB and malaria, subjects he had little interest in. Luckily for him, a colleague, Prof Moses Galukande, was among the first cohort of PhD scholars on the Training Health Researchers into Vocational Excellence (THRiVE) program. THRiVE was established in 2009 as a consortium whose primary goal was to build research capacity in health among African scholars in universities and research institutes in East Africa, partnering with two leading UK universities.
'I sought Prof Galukande's mentorship to help me shape my proposal and put an end to my track of rejections for PhD applications,' Prof Kwizera said laughing.
This was the beginning of Prof Kwizera's research journey.
To help him decide on the exact research questions his PhD would address, Prof Kwizera conducted a small study to try and understand predictors of mortality at Mulago hospital where he worked. Although it was well known that the number one reason for admission to the intensive care was respiratory distress, it became clear that there were some very basic issues that were not being addressed.
First, was the inability of clinicians to diagnose patients with Acute Respiratory Distress Syndrome (ARDS). Ordinarily, ARDS is diagnosed using a blood gas analyser. However, these are often not available in most local hospitals in Uganda and most of Sub-Saharan Africa and so ARD was diagnosed using symptoms.
Secondly, Prof Kwizera noted that there were some patients who rapidly progressed from acute to severe respiratory failure. In the absence of a blood gas analyser, it was difficult to tell apart moderate and severe respiratory distress which would lead to respiratory failure. This is because using the clinical presentation of the disease, the clinician cannot tell the severity of lung damage until it is extremely severe by which time, recovery is near impossible.
Prof Kwizera's research questions would therefore be:
Prevalence and factors associated with mortality amongst patients with acute respiratory failure in critically ill Ugandan adults
Diagnosis of ARDS using a modified tool
Treatment strategies for ARDS in Ugandan hospitals
'My goal was to build the evidence base to inform treatment and guidelines that would help the health sector make informed policy decisions,' said Prof Kwizera.
When the THRiVE fellowship started in 2019, Prof Kwizera knew exactly what the focus of his research would be. He was keen to test the utility of a previously validated method of telling apart non-severe and severe respiratory distress. The method uses a ratio known as S/F ratio, and is based on the idea that the oxygen levels in the gas that the patient is given (fraction of inspired oxygen), should be comparable to the levels found in the blood. The level of oxygen in the blood is measured through a simple, readily available, small machine, known as a pulse oximeter, into which a finger is inserted. If the lungs are badly damaged, gas exchange in the lungs is poor and the oxygen levels in the blood, will be much lower than that being supplied to the patient. A simple fraction (S/F ratio) comparing these two oxygen levels is sufficient to tell apart non-severe patients from severe patients with badly damaged lungs.
Once Prof Kwizera and his colleagues were able to correctly diagnose patients, they were able to show, for the first time, that above 40% of all patients admitted in intensive care unit in Mulago hospital, had ARDS. In a setting with very few mechanical ventilators, the data suggested that everyone on a mechanical ventilator badly needed it. In fact, during this initial study, all the patients with severe ARDS died.
Prof Kwizera and his colleagues found that they were able to diagnose ARDS early enough for clinicians to upscale simple standard therapies used in intensive care which may improve survival if implemented earlier. These include: use of steroids, proning (turning the patient regularly in their bed) as well as making adjustments on the mechanical ventilators to help expand lung function through changing rate, pressure and volume of oxygen.
Previously, as a result of this work, Prof Kwizera had gained international recognition and was invited to be part of the respiratory influenza panel at the World Health Organisation (WHO). This panel was later expanded to tackle Covid19 clinical case management.
In the meantime, as part of his THRiVE scholarship program, Prof Kwizera had a chance to undertake leadership training where he spent some time with a life coach and he describes this part of the THRiVE training as a turning point in his life.
'I had a 30 minute one-on-one session with the leadership training facilitator at a point in my life when I was stuck. I had spread myself thin on the ground, saying yes to everything. During these discussions, I found clarity on many issues. I left the session with some good ideas on how I could become efficient, and I learnt how to put time aside for myself to meditate and how to prioritise my family. It's like I was handed the key to open the door,' Prof Kwizera said.
Those skills were to be put in practice sooner than Prof Kwizera expected as something unexpected happened in 2019.
The Covid19 pandemic.
When Covid19 hit Europe in early 2020, Prof Kwizera was already engaged in writing the first draft of the Covid19 treatment guidelines at the WHO. He returned to Uganda just as the pandemic was starting its slow spread on the African continent and he was quickly drawn into the planning in Uganda.
'In 2017/2018 I had been engaging the Ministry of Health about building intensive care capacity but this had not gotten much traction. When Covid19 hit, everyone was talking about the value of ventilators and intensive care. I was immediately invited to join the scientific advisory committee for the Ministry of Health in Uganda,' said Prof Kwizera.
Fortunately, Uganda was a country on high alert with regards to transmission of infectious diseases due to the risk of Ebola seeping through from the neighbour to the West, the Democratic Republic of Congo, who had occasional outbreaks of the disease. As a result, it was easy for efforts to slow down the transmission of Covid19 to be quickly rolled out.
'I was impressed by the rapid response of Uganda's Ministry of Health but what we lacked was intensive care capacity. I worked closely with the biomedical engineering department and clinical directorate to design intensive care units and train people to use them. The research work that I had barely had time to publish, was put to immediate use,' Prof Kwizera said.
Despite all that was happening, the pandemic also created an opportunity for Prof Kwizera's research due to the now larger number of patients presenting to health facilities with ARDS. He was therefore able to quickly undertake studies comparing different treatment strategies. Studies that the WHO was soon to ran in many low-income countries.
As a result of his impactful research, Prof Kwizera has recently been awarded a Wellcome Trust Research Grant to enable him to build his research. Along with a Kenyan bio-medical engineer, Mr Otieno, Prof Kwizera has been awarded the Gradian Health Systems grant that will be used to validate the utility of a high flow oxygen concentrator that Mr Otieno had recently patented.
For those who would like to engage in this career, Prof Kwizera says, 'Intensive care is taxing and has a high burnout rate. You need the courage to give bad news because death rates are high, how to deal with families is important. Even when you are resting, it's hard to get the patients out of your mind. But it's very rewarding when someone who would have died gets out alive and you meet them down the street several years later and they thank you.'
Prof Kwizera's current focus is to build critical care research and care capacity for acute illness on the African continent. Drawing on lessons from his PhD, he has now shifted his research to focus on critical care outside of an Intensive Care Unit (ICU).
'Of all acutely ill patients in Africa, only 1% are managed in an ICU. Most ICUs are run by anaesthesiologists, yet their training is either inadequate or very basic. In addition to improving acute illness management outside the ICU, my dream is to have a 2-3 year fellowship training to produce dedicated intensivists for Sub-Saharan Africa who can provide high quality intensive care.'
Written by Dr Tabitha Mwangi