Strengthening participation of poultry farmers in the fight against antimicrobial resistance: A public engagement program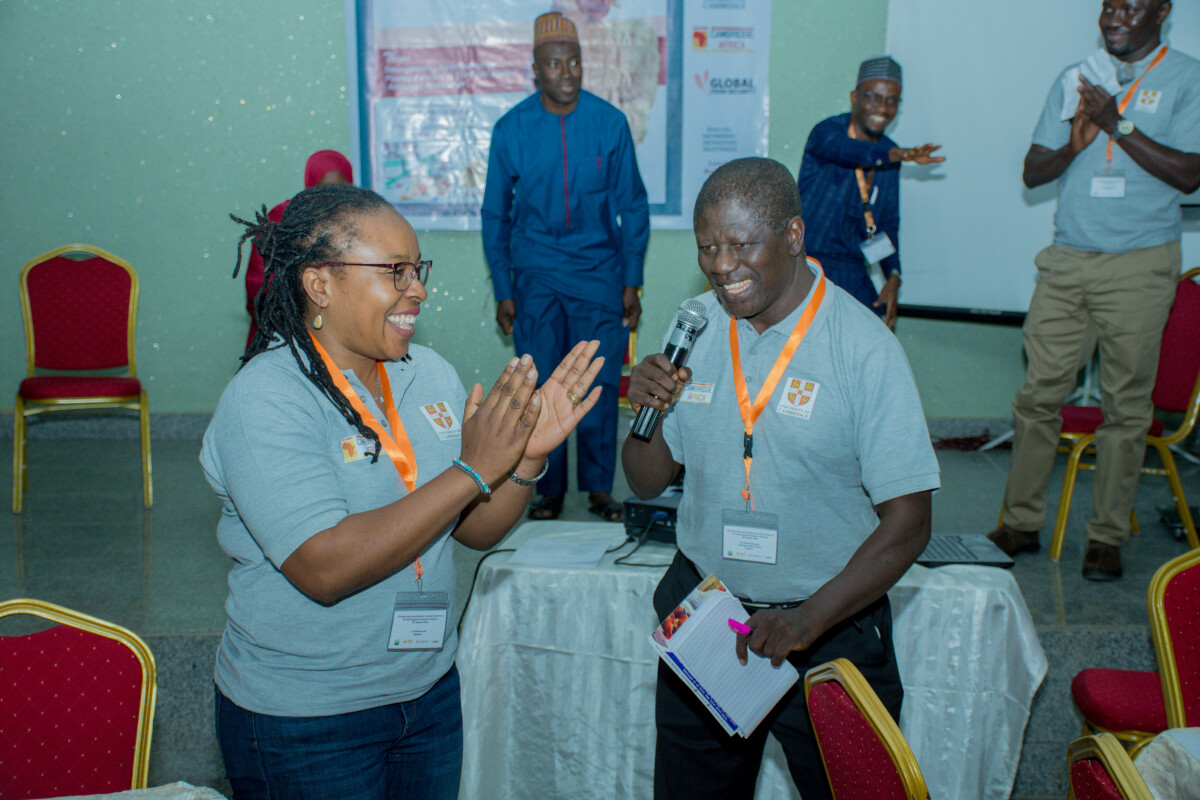 Written by Chioma Achi, 3rd year Cambridge-Africa scholar, Department of Veterinary Medicine, University of Cambridge
While interacting with poultry farmers in Nigeria during my PhD fieldwork in 2018, I gathered that the level of awareness around antimicrobial resistance was quite low. Not many farmers understood the implications that the misuse of antibiotics in their animals had on their health and those of others nor the impact that their actions would have on people around the world. Interestingly from our preliminary data, we have found high number of bacteria that are resistant to many of the antibiotics we tested against them. Even though my research was designed to look for and understand these bacteria genes and to check for any evidence of transmission between people and animals, I thought that the best way to stop this trend and also contribute to saving humanity was by taking further steps to better inform and educate the farmers. After all, what is the point of doing great research if it would not have any positive impact on people or change behaviour?
With support from both the University of Cambridge public engagement starter fund and Cambridge-Africa, I set out to organise an engagement program with poultry farmers on the theme "Strengthening participation of poultry farmers in the fight against antibiotic resistance". The program took place in Kaduna State Nigeria on the 29th of January 2020 after some pre-engagement activities. The role of poultry and other livestock farmers in the fight against AMR cannot be overemphasized. They are significant stakeholders and have important roles to play in ensuring the safety of nations. Interestingly, the program recorded a huge turnout of farmers from different states of the country. It also brought together government officials, academics, farmers' association, veterinarians and the media.
Experts in public health and the poultry field facilitated different sessions during the day. I led participants to reflect on the importance of antibiotics in our lives and the challenges of the pre-antibiotic era. Together, we reflected on situations where many people died from minor injuries, cuts and simple infections because there were no antibiotics to take care of their infections. We also explored the importance of preserving our available antibiotics and the need to stop bacteria from developing resistance to them.
The session led by Professor Junaidu Kabir of the Department of Veterinary Public Health and Preventive Medicine of Ahmadu Bello University Zaria, Nigeria, reinforced the need to tackle antimicrobial resistance through a global action taking into cognisance human and animal health as well as the environment. Discussions on careful use of antibiotics in animals, how to use them, when to use them and for how long to use them was covered during the session. Participants were reminded that there has been no new antibiotic for the past 30 years meaning we are gradually running out of antibiotics. With huge economic loss, loss of productivity and pressure on available resources. Resistance is pushing us to move from safer drugs to options that might have serious adverse effects and is increasing the number of deaths with possibility of leading us to an apocalypse.
Professor Paul Abdu of the Department of Veterinary Medicine at Ahmadu Bello University Zaria facilitated a session on strategies aimed at reducing the need for antimicrobials on farms. Some of the points raised were vaccination, good husbandry and management beginning from buying disease free day-old chicks or point-of-lay birds from reputable sources to brooding under stress free conditions. He also mentioned the importance of maintaining adequate and balanced feed for the birds, the benefits of considering the location, size and materials used for poultry housing as well as proper ventilation. The emphasis of this session was on maintaining good biosecurity measures to stop diseases from entering the farms hence reducing the need for antimicrobials. This session also included an interactive session aimed at understanding the sources of infectious agents with a view to preventing introduction of infections into the farms.
Professor Hauwa'u Yusuf, a practicing organic poultry farmer for the past 15 years led participants to explore the possibility of farming without antibiotics. She shared her experiences with the farmers including challenges of venturing into organic farming and how they can be overcome.
The major highlight of the day was the panel discussion exploring different perspectives of AMR from a physician, experienced poultry farmers, diagnostician, researcher and private veterinarians and the session where farmers were led to design strategic action plans specific for their individual farms. It was exciting to see the farmers incorporate knowledge gained from the program as they came up with measures to reduce the use of antimicrobials on their farms.
At the end of the event, we all agreed that AMR is closer to us than we imagined and therefore fighting AMR should be a collective responsibility. We all need to play our roles in prolonging the effectiveness of the available antibiotics; using them only when it is necessary and not out of ignorance. Understanding the cause of the problem through ensuring proper diagnosis. We need to embrace more sustainable approaches and use other alternatives to antibiotics such as probiotics where necessary.
Some quotes from participants that attended the program:
"I must congratulate the funders of this event and all those that played a role in organising it. As someone who is involved in strategic planning on AMR from the animal component in the country, I must say the program has enabled us to view the problem from a wider dimension. One of the lessons learnt from this program is that we now have to involve stakeholders such as farmers as we draw up our action plans…" Dr Bala Mohammed
"Excellent program, it will now help me to use antibiotic proper. I really enjoyed the group discussions which I understood more on rodent control. Programmes like this would improve group and sustainable farming within community" Peter Odonta
"I enjoyed every bit of it especially the interactive session where ideas were discussed. I will be using the information to also help my neighbors so that their own issues will not be transferred back to me or my farm. We thank you so much and also hope more of this kind of seminars/workshop would be held periodically" Hauwa Kabir Yeldu, Tuniga farms Kaduna
The hashtag for the event was #Farmers against antimicrobial resistance
You can follow excerpts from the events on twitter: @pepf_amr