Suffrage Science Award Winner 2021-2022 - Dr Mary Chama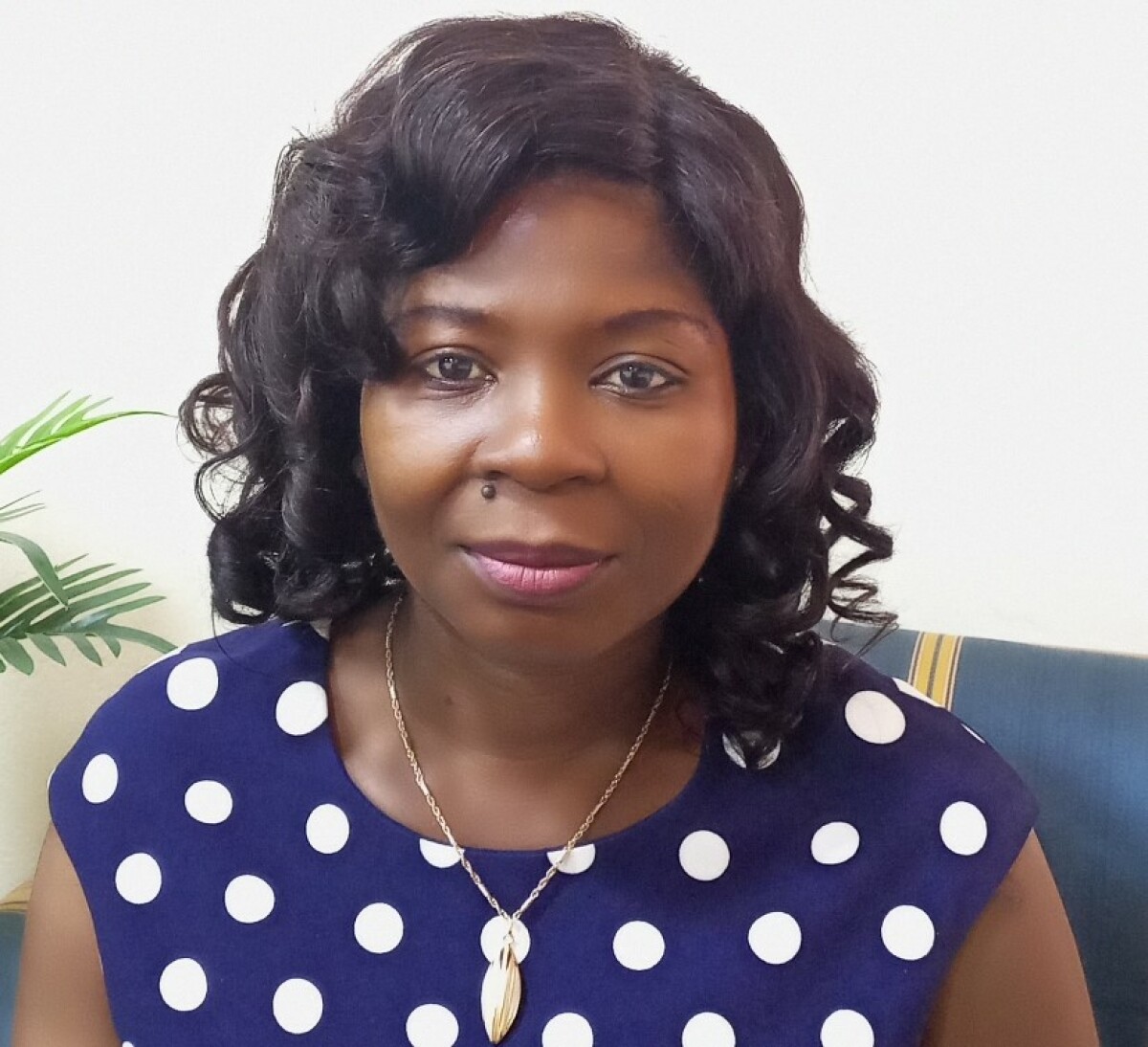 The list of science prizes awarded each year is long and growing but the selection process is often opaque and team effort or mentorship are rarely prized. Women, who are already underrepresented in the higher echelons of science, rarely put their names forward and are often, rarely nominated. The Suffrage Science Award seeks to seal this gap. It is a prize that firstly, recognizes women at various stage of their career. Secondly, it recognizes not just science publications but personal qualities like integrity as well as mentorship of women and girls. Lastly, the selection process is transparent. The winning woman holds the award for two years and then passes it on to a woman that they admire.
This year's (2021) Suffrage Science award is held by Dr Mary Chama of the Department of Chemistry, University of Ghana. She received the award from Professor Melinda Duer from the Department of Chemistry, University of Cambridge, who received it from Professor Sharon Ashbrook from the University of St. Andrews, Scotland.
'I wanted to pass the award on to someone whose research work I think highly of but also someone whose attitude to science I respect. Dr Mary Chama is not only undertaking brilliant research but is very caring and supportive of her students,' said Prof Duer.
All three women: Prof. Sharon Ashbrook, Prof. Melinda Duer and Dr. Mary Chama are linked by a piece of equipment called a Nuclear Magnetic Resonance (NMR) Spectrometer. Prof. Ashbrook uses it in geological materials, Prof Duer for biological tissues and Dr Chama for plant isolates.
NMR spectrometry is a machine that uses radio waves to excite nuclei within atoms, a process that provides the structure of the molecule and leads to its identity. In Mary's work, mass spectrometry is then used to confirm the structure.
Dr Chama's work involves isolating compounds from plants found in Ghana that are thought to have medicinal value, an area of research in drug discovery. Because they are unusual plants, Dr Chama discovers unusual compounds, whose medicinal use is not known or understood.
So how did Prof Duer and Dr Chama meet?
As you can guess, it had to do with the fact that both chemistry researchers made use of the NMR and mass spectrometer instruments, the latter based in the Department of Chemistry at the University of Cambridge.
Dr Chama had been awarded a Cambridge‐Africa Partnership for Research Excellence (CAPREx) post-doctoral fellowship in 2016. Through this award, she received an Alborada Research Fund in collaboration with Dr. Andreas Bender, at the Department of Chemistry. Dr Chama was training in cheminformatics, learning how to use computer derived models to study the mode of action of new compounds (dichapetalins, a class of triterpenoids molecules). This knowledge would in future translate to the rapid development of new and affordable drugs.
'Although Prof Duer was not my collaborator, we were both involved in wet chemistry using both the NMR and mass spectrometer. She was also part of the CAPREx pre-award panel that interviewed me and she took it upon herself to check on my progress and was ready to offer any form of help while I was in the Department of Chemistry in Cambridge. I found her support very useful both in the laboratory and outside the department. During Covid19 lockdown, she helped ship consumables that helped progress my research,' said Dr Chama.
Listening to the two women talk, the mutual respect shines through.
'We learnt a lot from each other. I have visited Ghana since and watched how she related with her students especially the way she mentors female students. With all that research and teaching she does, she still carves out time for caring mentorship,' said Prof Duer.
The Suffrage Science Award it seems, not only boosts the scientific profile of scientists but also cements networks and widens them. Receiving the Suffrage Science Award has already started to open doors for Dr Chama. At the virtual award ceremony, she met Dr Isabella Palacios who uses fruit flies (drosophila) instead of laboratory animals for biological tests including testing for the toxicity of compounds.
'This was a lot cheaper and I was keen to use this knowledge. In collaboration with Prof Regina Appiah-Opong from the Noguchi Memorial Institute for Medical Research, we decided to host a virtual workshop in Ghana on the use of these flies for research in October of 2021. We had the honor of hosting two American Nobel laureates, for that event. I would not have met these participants if it were not for the Suffrage Science Award,' said Dr Chama.
Who is this Dr Mary Chama?
Dr Chama was the first of eight children, born to the late Mr Lawrence Chama, who was a security personnel at the Ghana Cocoa Board and Mrs Juliana Chama who was a trader. They lived in Nima, an urban slum in Accra, Ghana.
From when she was a little girl in primary school, Dr Chama's day would begin early. She would prepare breakfast, fetch water from the pipe outside the house and feed her younger siblings before going to school. After school, she would help her mother sell fruits in the market. By the time, it was getting dark, and she was returning home, she would be too tired to study.
Despite all that, she did well in her primary school exam and started Junior High School aged 12 years. However, her mother had other ideas for her.
'She decided that I could earn more money for the family if I started to carry luggage for people at the Accra Central market. My mother was strict, she was not someone to reason with and I knew that if she insisted on this path, not even my father would stop her. I was so desperate. I just prayed and prayed and thankfully for me, she did not persist,' said Dr Chama.
The household chores notwithstanding, she earned a distinction in her Junior Secondary School exams. She knew that her parents could not afford to pay the school fees needed for her to advance her studies and that her mother would be happier with her staying at home to help. Her future was uncertain.
However, something unexpected happened that changed the course of her life. Dr Chama and her friends had collected their secondary school exam result slips from the Headmistress's office at school and were walking home. One of her friends decided that she wanted to show her result slip to a Reverend Sister from the Catholic church.
'My friend did not want me to approach the Reverend Sister because I had scored better grades. She assumed she would be compared to me and scolded for not performing well enough. But the Reverend Sister called out to me, as I was waiting a few meters away, and when she saw my results, she was very impressed. She asked me to bring my father to school to discuss my schooling,' said Dr Chama.
Dr Chama's father had a discussion with the Reverend Father who suggested that St Mary's Secondary School would be suitable for his daughter. Conscious that he would not be able to raise the fee, the church took on that responsibility and paid the first term fee. On top of that, one of the Reverend Sisters took Mary to the city to shop for the items she needed for her first term.
However, Mary's mother would not allow her to go to boarding school as she needed her help in the home. Initially, her father was in a fix, as to whether to agree with his wife or not but in the end, he gave his consent for boarding school.
'I could not believe the freedom of boarding school. All I had to do was clean a small section of the school's toilet like everybody else, shower and go to class. I did not need to wash, clean and cook for anyone or carry fruits to the market after school to sell. I had never in my life had so much free time and so I just studied. After all, it was the reason I had wanted to be in boarding school. I was also aware that I was competing with students who had come from better schools than the one I attended in Nima,' said Dr Chama.
At the end of the term, she could barely believe that she had received almost all the prizes for the subjects she was studying and to top it up, won the price for 'best toilet cleaner'. That spurred her on.
The Ghana Cocoa Board, where Mr Lawrence Chama worked, awarded a scholarship which catered for Dr Chama's school fees from the second term of her first year right to the end of her senior secondary education.
After her second attempt at the university entrance exams, Dr Chama enrolled into the Science Faculty at the University of Ghana, even though the process was not smooth sailing.
Dr Chama had hoped to do medicine but could not be admitted and so settled for a BSc in Chemistry. After completing her degree and the Ghanaian mandatory National Service, she started making applications for Masters' training. She wanted to study abroad but although she got a few admission letters, she did not get a scholarship which she needed to finance her studies.
The Head of the Department of Chemistry at that time, Dr Oppong, however, encouraged her to apply in the department and offered to pay half of the application fee. Two years into her Master's program, her supervisors Emeritus Prof Ivan Addae-Mensah and Prof Dorcas Osei Safo , felt that she had performed well enough for the programme to be converted into a PhD with an additional 2 years of research.
After her PhD, Mary was able to move her family from Nima to a house she put up in Damfa, a suburb in Accra. It had been her prayer since she was young to move her family away from the slums where she had grown up. She wishes to see her siblings established and settled: 'I wanted them out of the slum so that they can see something better for their lives. There is no point for me to move up in life and leave them behind'.
That principle of lifting others up while in a position to do so, continues into her working life. The Suffrage Science Award recognizes this spirit.
Written by Dr Tabitha Mwangi