Transforming the cowpea in Ghana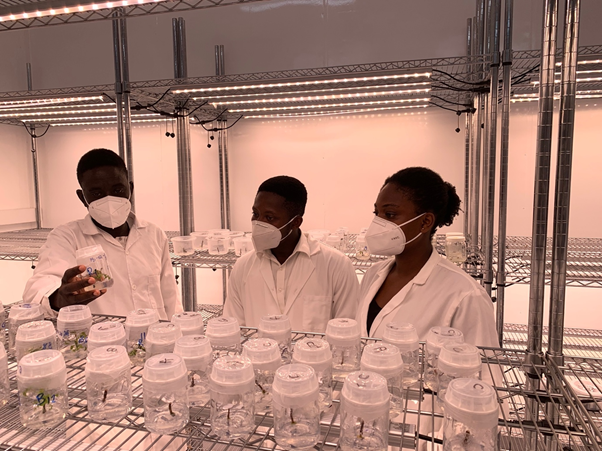 Dr John Eleblu was born in Ghana where cowpeas are a common ingredient in many local dishes. In fact, one of Ghana's most popular dishes, Waakye, cannot exist without cowpeas. When added to rice, the red or black hues from the cowpeas not only give the dish a beautiful tint, but also a unique taste.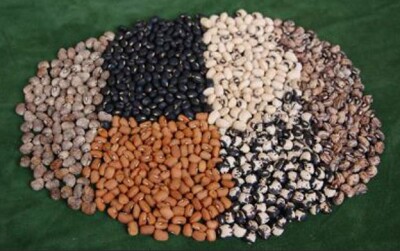 Dr Eleblu's favourite meal is cowpea in oil and pepper sauce served with gari and fried plantains, popularly known as Red Red. The few coins he had for pocket money while in primary school were spent on this dish at lunch times with friends.
'I have eaten a lot of cowpea in my lifetime, especially because I was born to vegetarian parents and was raised vegetarian. I must be the one in a million vegetarian by birth and choice on the continent!' Dr Eleblu said.
As a young boy, he did not imagine that this little seed would be the focus of his career in later years. In fact, for his PhD, Dr Eleblu worked on melon, studying the genes that determine whether a plant is male or female. After completing his PhD and a brief post-doc in France, he returned to Ghana where he works as a lecturer in the Biotechnology Centre and Coordinator of research projects in the West Africa Centre for Crop Improvement (WACCI) at the University of Ghana. This Centre offers post-graduate courses in Plant Breeding (PhD) and in Seed Science and Technology (MPhil). Since its establishment in 2007, WACCI has enrolled a total of 149 PhD and 65 MPhil students from 19 African countries and has been recognized as a World Bank African Centre of Excellence.
It was through WACCI that Dr Eleblu heard about CAPREX, a Cambridge-Africa research capacity building initiative. He applied for CAPREX funding to work on sorghum. That proposal, however, was not funded. Instead, Cambridge-Africa offered him a travel grant to visit his collaborator at the University of Cambridge, Dr Alison Bentley, and develop new research projects.
During this visit, Dr Eleblu attended a presentation by a scientist from the Rothamsted Research Institute at the National Institute of Agricultural Botany Trust (NIAB). The scientist talked about a gene they had transferred from desert plants to wheat and barley. This gene allowed wheat and barley plants to act dead in the absence of water and then come back to life when there was enough moisture. The gene is named the 'resurrection gene'.
Dr Eleblu was fascinated by this development. Climate change was already having an impact on cowpea harvests which was likely to get worse as the climate crisis deepened. The idea of a plant that would withstand a long spell of dry weather and then revive enough to give some yield at the end of the plant cycle would make a big difference.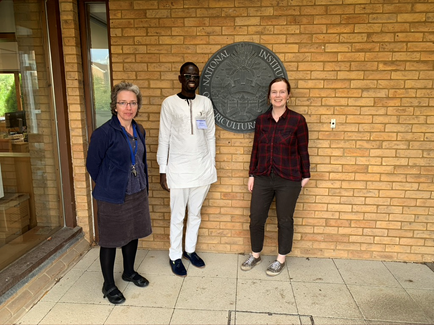 'Cowpea farmers in much of Sub-Saharan Africa have small plots of land and are extremely vulnerable to poor rains. If we could get the resurrection gene into cowpeas, we would completely transform their lives. That became my vision: to get this resurrection gene into cowpeas,' Dr Eleblu said.
Together with Dr Bentley from the University of Cambridge and Dr Emma Wallington at NIAB (pictured with Dr Eleblu), they wrote a proposal which was funded by Cambridge-Africa's Alborada research fund.
The first requirement was for Dr Eleblu and his colleagues at WACCI to establish the facility and transfer knowledge and skills to genetically transform tissues derived from cowpea shoot tip, radicle (roots), cotyledonary node (cotyledons) as well as leaves and from these single or few cells in a test-tube in the laboratory, grow full cowpea plants. These processes are called gene transfer and tissue culture. Dr Eleblu visited NIAB to experience the techniques so that he would be able to transfer this knowledge of the developed protocols in order to establish it in the new tissue culture laboratory at WACCI.
When Her Majesty, The Queen of England visited the laboratory during NIAB's centenary celebrations in 2019, she was shown these wonderful cowpea plants. It very well may have been her first time seeing this plant, which is not a staple crop in the traditional British diet.
The work at NIAB was very successful. Dr Eleblu and his technicians at WACCI wanted to ensure that whatever methods they developed would be directly transferable and useful in Ghana. Most importantly, they ensured that it would not involve the importation of expensive chemicals. They found that coconut water, banana and orange juice provided the right environment for the growth of cowpea cells or tissues in a test-tube to a full plant. They tested these conditions and found alternatives to the use of expensive hormones.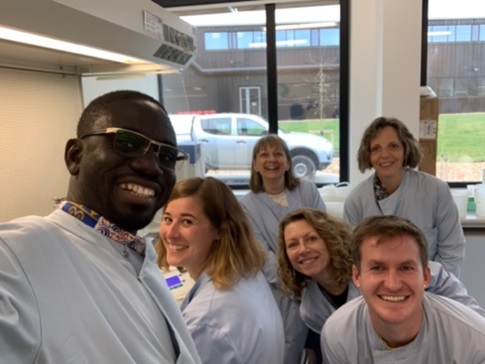 Dr. John Eleblu poses with technicians and scientists (Melanie Craze, Sarah Bowden, Ruth Bates, Gregory Reeves and Charline Soraru) at NIAB's Tissue Culture and Plant Transformation Lab.
After the training, Dr Eleblu returned to WACCI and has since trained his team on the techniques of tissue culture. The plants from which the cell cultures would be derived from however need to be 'clean'. This means that they could not be harvested from plants grown in the open fields which are likely to be pollinated by other plants or contaminated with micro-organisms.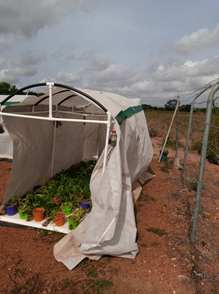 Dr Bentley sent pollination tents from the UK to Dr Eleblu and his team in Ghana. The pollination tents were easy to set up but within weeks the tents were torn by wind and rain and the plants struggled to seed in the heat (photo on the left).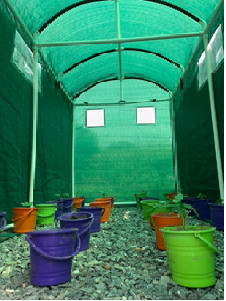 'The tents that worked very well in the UK could not withstand the harsh conditions in Ghana. We had to improvise with woven nets which were hardier,' said Dr Eleblu.
But these woven tents (photo on the right) did not let in enough light, so part of the pollination tents had to be made of transparent plastic sheets to allow for more light to reach the plants (photo below).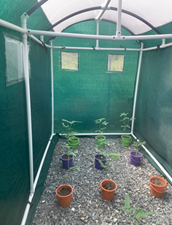 The pollination tents were not the only challenge. NIAB scientists had expected to run a workshop in Accra on tissue culture and plant transformation but due to Covid-19 restrictions they could not travel. Instead, NIAB scientists produced videos on how the work would be conducted. This solution may end up being a blessing in disguise as these resources will be beneficial to future students wanting to carry out similar experiments across Ghana and beyond.
The Alborada funding has come to an end. At WACCI, the infrastructure is ready. 'Clean' plants are growing well in the new pollination tents.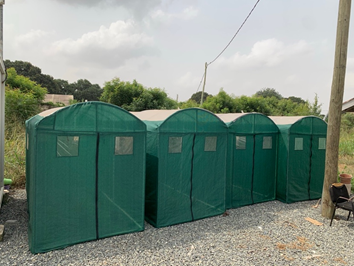 Dr Eleblu has trained technicians and several post-graduate students who are now growing full plants from single cells. The looming challenge is to set up the laboratory to enable them to transform cowpea plants with the resurrection gene. Dr Eleblu and colleagues now need to write a new proposal for funding for this purpose.
'We are very close to the final stage. All we need are the investments to move the resurrection gene into cowpeas and I will have been able to fulfill my cowpea vision and who knows, perhaps use the gene to transform other local food plants', he said.
Article written by Dr Tabitha Mwangi and Dr John Eleblu