Richmond Ehwi reflects on his time as a Cambridge-Africa Scholar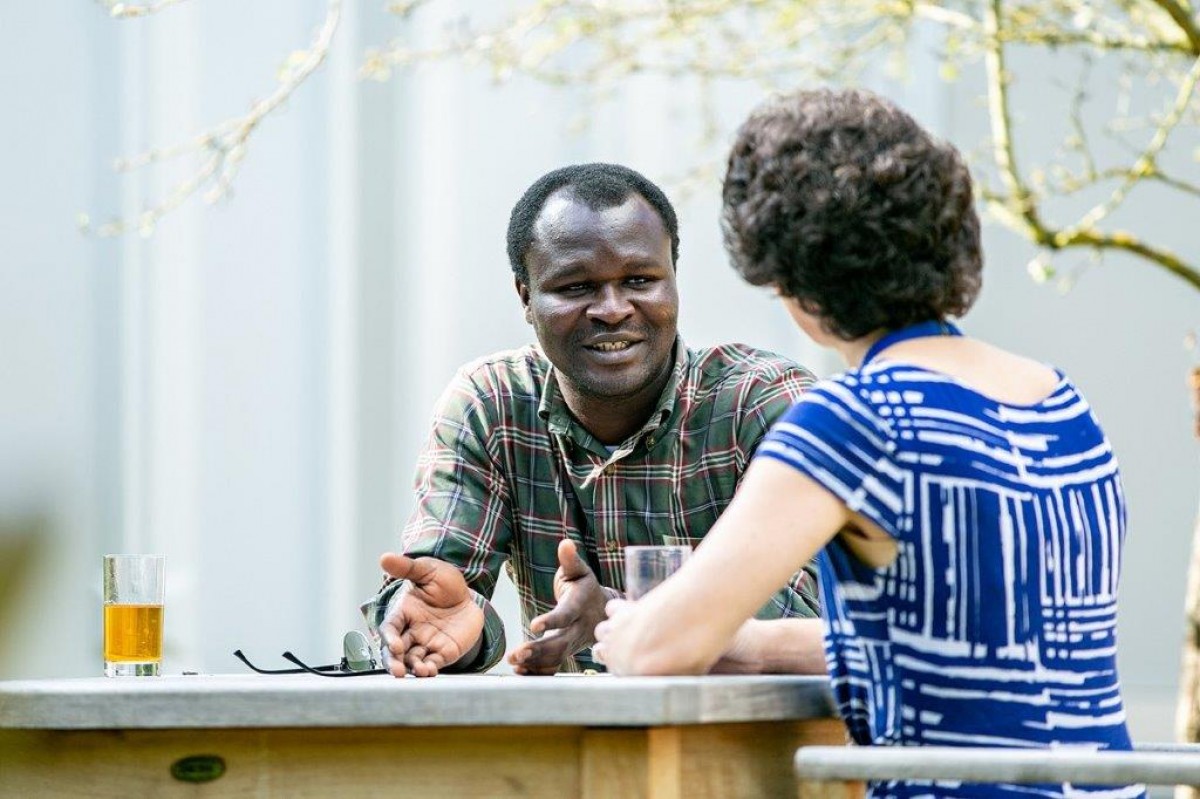 Cambridge-Africa scholar Dr Richmond Ehwi on his Cambridge experience and plans for the future.
What is your most memorable aspect of the Cambridge Life?
Curiosity drives Cambridge scholars and you'll be fortunate to walk away under a minute if someone ever asks you to tell them about your research! I vividly recall an incident where I had to explain my research to a postdoc researcher in the most unusual of places.
Cambridge has busy roads for both drivers and cyclists, and I got talking to a Nigerian post-doctoral researcher at the traffic lights on Cherry Hinton Road. We'd met before but now we were both stuck in traffic. I pulled up alongside him and we got talking. He asked about my research and how it was unfolding….to cut a long story short, we ended up debating the merits of an argument I had made, that the housing challenges in most African cities can largely be attributed to institutional failures, all the way to the Newnham Roundabout before parting company. We slowly cycled two miles, moving from red light to red light, into town before saying goodbye. It never ceases to amaze me how Cambridge scholars demonstrate their curiosity and their keen interest to learn, even in less than ideal environments. It's quite remarkable.
What have you been up to since completing your PhD? And what are your next steps?
Happily, I was successful in securing a three-year contract before submitting my PhD thesis for examination. My family and I are very pleased to be able to continue to live in Cambridge where I work as a postdoctoral Research Associate with the Cambridge Centre for Housing and Planning Research on a project funded by the Centre for Digital Built Britain (CDBB). The CDBB is a partnership between the Department of Business, Energy & Industrial Strategy and the University of Cambridge which has been tasked with delivering a smart digital economy for infrastructure and construction and to transform the UK construction industry's approach to the way the built environment is planned, built, maintained and used. I am proud to be part of a project that will see real positive impact on how we build and how those buildings are used by the people who live and work in them.
A Ghanaian national with a strong attachment to my country, working for CCHPR and the CDBB presents me with an opportunity to develop a sophisticated understanding of our urban future through engagement with different urban stakeholders. I am constantly reflecting on how I will be able to make the most of this opportunity to contribute to policy making in developing countries, particularly those in Sub-Saharan Africa, where rapid urbanisation places enormous pressure on existing social and physical infrastructure. Both the technical and soft skills from this project will equip me going forward and will be invaluable when engaging with key stakeholder groups in different country contexts.
Already immersed in the burgeoning academic research on smart cities and digital place making, I will, as the project proceeds, continue to explore opportunities that would allow me to continue with this new line of research in the UK and also across developing countries. Longer term, I have my sights set on a lectureship appointment within a prestigious university in the UK or abroad, and securing some generous fellowships and grants sit on top of my next big plans.
How would you describe the Cambridge-Africa scholarship's contribution to your Cambridge experience and career development?
I would never have completed my PhD journey without the Cambridge-Africa scholarship. After two unsuccessful attempts to secure funding for my PhD, the Cambridge-Africa Scholarship exceeded my expectations. As well as covering my initial travel from Ghana to the UK at the start of the PhD and then providing a regular stipend for three years, the Scholarship met other expenses, including the Immigration Health Surcharge, and provided grants for conferences and supplementary budgets for fieldwork.
The relief of being fully funded throughout my time at Cambridge helped me to give 100% to my studies. Not having to split my time between working and studying meant that I could make the most of being part of the University and I relished the many opportunities to take part in student life - whether it was a lunch time seminar, mid-table formal dinner or just the chance to socialise with other students across the University and in the Colleges, I fully embraced student life.
The Cambridge-Africa funding made it possible for me to take part in reputable academic conferences, including the Annual World Bank Conference on Land and Poverty (Washington DC), the Ghanaian Scholars in UK maiden conference (Coventry, UK) and the Changing Cities Conference (Chania, Greece). The conferences gave me the opportunity to share insights from my research, to receive constructive criticisms from peers, and to hear from other scholars with similar research interests. This has been invaluable to my research and personal development!
Any thoughts you like to share with current and incoming scholars?
The University of Cambridge is a great place to study and to research, and the benefits that come with this opportunity are enormous. I have no doubt they will be long lasting. I would encourage future Cambridge-Africa scholars to maximise the opportunities that the University of Cambridge offers by producing research outputs of the highest standard. I challenge them to rise above fear and any form of mediocrity to make the University and indeed our continent proud, and importantly, to provide justification for the Trust to keep the scholarship running for future scholars to benefit. Past African scholars of this University have demonstrated that this is possible, and I have done my best to keep this tradition of excellence going - I'm relieved to say that I passed my viva with very minor corrections and am looking forward to my graduation this spring.
Lastly, I would encourage Cambridge-Africa scholars to nurture a sense of community, and to engage frequently with each other to discuss common issues regarding their research and possible future collaborations. The PhD journey can sometimes be a lonely one and we all need someone we can talk to and draw inspiration from at some point.
Cambridge-Africa Scholarships are supported by the Cambridge Trust and the University of Cambridge, learn more here