COVID-19 Diaries: A joint blog from the Cambridge-Africa team while working from home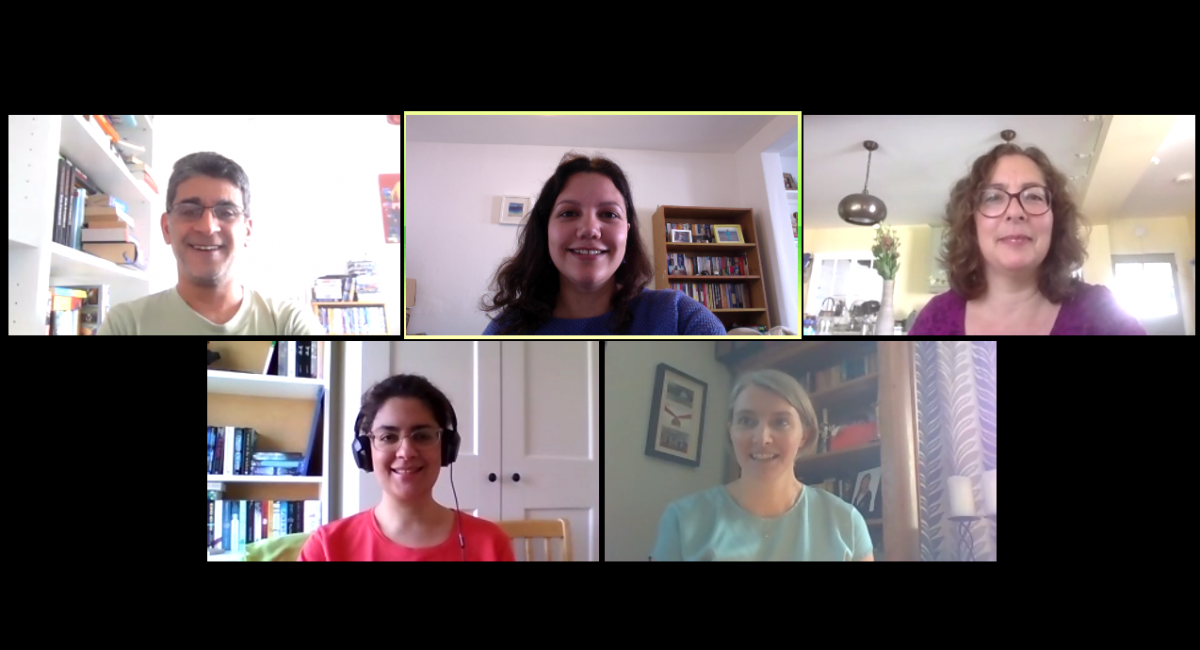 Since the end of March 2020, with the start of new COVID-19 measures, we have been working from home. This has been a particularly active and busy time for us with many new projects, collaborations, funding calls, website pages and even a new staff member joining our team! We thought we'd post a group blog to let you know what we've all been up to. Read about our individual activities below.
Caroline
I divide my time between this position as Director of Cambridge-Africa and my research role as an infectious disease epidemiologist. Pre-lockdown, working in 2 different physical locations helped to manage my time between these roles (at the Department of Pathology in town for my Cambridge-Africa days and at the Department of Veterinary Medicine in West Cambridge otherwise), but sitting at the same desk at home every day, this distinction is harder to maintain. It was a great pleasure to join the selection panel convened by the Cambridge Trust to award the 2020 Cambridge-Africa PhD Scholarships; there was a really strong field across lots of different disciplines and I look forward to meeting the new scholars in autumn. As with all other meetings, we moved our termly Strategic Advisory Group (CASAG) meeting online, with nearly all members joining and contributing to a good discussion, predictably dominated by COVID-19. As well as working on the ALBORADA emergency COVID-19 awards scheme (more from Parinaz below), I have been involved in coordinating the University of Cambridge's response to COVID-19 in LMICs, chairing the first session of the working group last week. It was fantastic to listen in on a webinar on Thursday from Africa's Voices "Religion, Rumour and Right Practice - Somali views on COVID19" and I am delighted that we were able to support this as our first COVID-19 emergency ALBORADA award. Wearing my research hat, I joined the Science, Policy & Pandemics podcast to talk about COVID-19 testing and future strategies. I am also starting to work on interesting and important questions on the indirect effects of the pandemic on immunisation uptake for meningitis vaccines, and how to recover lost ground. This is relevant to both the UK and the African meningitis belt.
Amit
Email traffic seems to have increased exponentially this last month, so my best laid plans to spend some time catching up on those tasks that keep getting carried forward from one "to do" list to the other have gone to pot and time has flown by dealing with COIVD-19 related queries. While the focus of the University's response to the pandemic has been to assist efforts in the UK, a number of exciting proposals are being developed with partners new and old and we hope to have funded some more studies shortly. I've been particularly interested in some of the wider efforts being conducted to map out the various communication strategies being used to inform communities across Africa. It has been great to get a regular "hang-out" in zoom sorted with the C-A scholars - hear about how they are managing with lock-downs in the numerous countries they have ended up in. While COVID-19 will continue to occupy most of us for the foreseeable future, we are all aware of the need to keep the momentum going on our other activities and we've also been navigating our way round how you conduct a virtual induction for Polly who joined the team at the end of March, just after we went into lockdown and who has been busy meeting all those involved in the UCI initiative remotely. Although we were disappointed to have had to cancel the 2020 C-A Day, we hope that we can bring Prof Samba Sow back to join us in Cambridge as our Keynote Speaker next year. Finally, we remain on tenterhooks as we await the decision by the African Academy of Sciences on which consortia will be invited to apply for full proposals for the next round of the DELTAs programme; C-A was a partner in four of these.
Corinna
It has been encouraging to see so much activity going on at the University of Cambridge and associated partners on COVID-19 focused on working with researchers and others in LMICs. Many people are aware of the challenges to weak health systems that COVID-19 poses in Africa and that responses in high income countries may not be appropriate for sub-Saharan Africa; for example, living conditions for many makes social distancing impossible. Here are a few examples of initiatives that I have been supporting which are primarily being undertaken by others in Cambridge and in Africa.
We had a request for a leaflet on testing from Dr Ros Parkes Ratanshi, who is based in Uganda at the Infectious Disease Institute and also works at the Institute of Public Health in Cambridge. Ros had found that there was a lack of understanding of the various tests available (as there has been in the UK) and many people in Uganda were purchasing tests online that were of dubious validity. She felt that clear information was needed on the types of testing available and their limitations. I produced the text for a leaflet that could then be further adapted for use in Uganda. Dr Freya Jephcott is developing a surveillance tool to help distinguish between COVID-19 and non COVID-9 respiratory symptoms so that limited testing can be directed to where it is most likely to be of use. Through the THRiVE and MUII programmes, I was able to put Freya in contact with relevant clinicians and public health professionals in Uganda who were keen to work with Freya to make this initiative suitable for Uganda. I have been liaising with the very exciting Cambridge based OVSI project which is co-developing a low-cost ventilator with African partners with the aim of the ventilator being manufactured and used in Africa. Finally, I have been liaising with THRiVE on the impact of COVID-19 on the programme as universities in Africa have been shut down and countries that THRiVE operate in have gone into lockdown. THRiVE Fellows were in the final stages of their research which has largely had to be put on hold; this will impact on their ability to complete their PhDs and other THRiVE fellowships before the THRiVE programme is due to end in March 2021.
Parinaz
On my last day in the office, when I was packing to start working from home, I thought "is this going to work?", but left with no choice, I was determined to make the most of my temporary remote status. I established a clean and organised workspace at home and tried to stick to my routine. I miss the random talks with my colleagues, my comfortable chair and even the extra monitor, but complaints aside, today after 36 days, things are looking great!
As the Cambridge – Africa ALBORADA Research Fund Coordinator, I have been very busy dealing with a huge number of emails and queries; almost all of our awardees have been experiencing problems as a result of the Covid-19 pandemic and have had to stop or postpone their research activities and training visits.
We have also opened the ALBORADA emergency COVID-19 awards scheme to allow applicants from Cambridge and sub-Saharan Africa to meet the threat posed by the pandemic in Africa. I am very impressed by the number of the very interesting proposals we have received so far; the unquenchable eagerness and enthusiasm gives me so much motivation and I feel reinvigorated to perform even more. The first ALBORADA COVID-19 Emergency scheme has been awarded to COVID-19 in Somalia with many more to come.
Polly
I joined the Cambridge-Africa team at the end of March 2020, when the University had just closed its doors and remote working became the norm. Although I had met Caroline and Amit previously in person, my introductions to Corinna and Parinaz, as well as other members of the team, have been made online. Hopefully, it will not be too long before I meet everyone in person. So far though, Zoom has worked wonderfully well in connecting everyone involved in the project.
I am the Uganda Cancer Institute (UCI)-Cambridge Coordinator, a newly created post within the team, supported by a GCRF-QR award from the University. There are many exciting collaborations between the UCI and Cambridge partners include the CRUK Cambridge Centre, Department of Pathology, Cancer Research UK Cambridge Institute and Cambridge Global Health Partnerships. I joined the Uganda Cambridge Initiative Meeting at the beginning of April and this was a great opportunity to meet many of the main contacts involved in the collaborations with UCI, as well as those based at the UCI.
As well as having regular meetings with the Cambridge-Africa team and Gill Currie from the CRUK Cambridge Centre (who has been heavily involved in the project and a great help whenever I have a random question), I have been organising individual meetings with the wider team. Many collaborators in Cambridge have visited the UCI and members of the UCI have visited Cambridge and it's wonderful hearing about the details of these visits and the collaborations that were formed as a result. As well as my coordination role, I have had an active role in editing the website. My background is in global health and also website development, networking and blogging so it makes sense to make the most of my skills. We have created a new COVID-19 page which is growing every day with new events and resources.
It's a wonderful and exciting time to join the Cambridge-Africa team. Despite the setbacks caused by COVID-19, the sense of unity and support has increased, not only in the community but also in the workplace. We are all in this together after all and if anything, the current climate highlights the importance of collaboration. This is exactly what my role entails. I see a lot of scope moving forward in terms of growth and development within the role and am really pleased to have joined the team.
-------------------------------------------------------------------------------------------------------------
Read more about us on our Team page. Our projects can be found on our Initiatives page and our recent work on our Cambridge-Africa Updates section.