Enhancing opportunities for African post-docs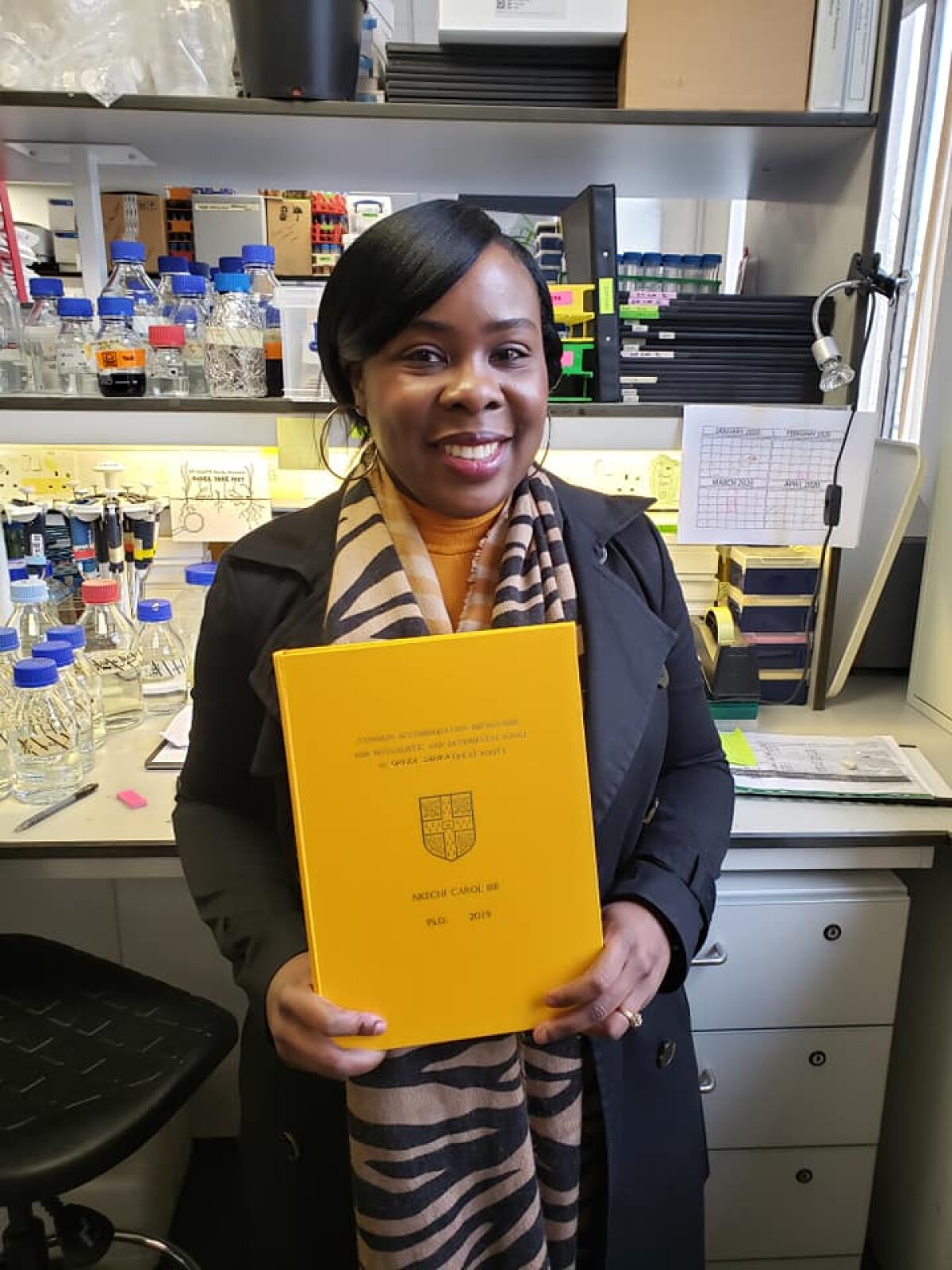 Written by Dr Carol Ibe
My time working at the Cambridge-Africa Programme!
I spent three months working with the Cambridge-Africa team between May and July. It was a useful, productive and very rewarding experience. My role was primarily to design a Postdoctoral Research Fellowship Scheme that will support exceptional African early-career researchers (ECRs) to undertake cutting-edge research (at Cambridge) that addresses Africa's challenges and the Sustainable Development Goals (SDGs).
How it all started
After the final submission of my PhD thesis at the end of January 2020, I felt there were limited opportunities for African PhD graduates and ECRs to advance their research careers at Cambridge. You get to the finish line and realise that there is some sort of expectation that you must 'go back' to Africa, even if Africa is not necessarily where you consider to be 'home' for various reasons. A PhD degree from Cambridge is fantastic, but highly competitive academic positions in African Universities or elsewhere require excellent post-doctoral research training. I had a few career options myself (outside Cambridge), but I felt a bit restless and uncomfortable to leave Cambridge without finding a way to create this opportunity for those after me. There had to be a way to encourage the University of Cambridge, perhaps via the Cambridge-Africa Programme to set up an Africa-focused post-doctoral research training programme for high achieving and highly motivated African early-career researchers. I wasn't sure how to go about this, but I thought to reach out to Dr. Caroline Trotter, the Academic Director of the Cambridge-Africa Programme.
Meeting the Academic Director of the Cambridge-Africa Programme
In January 2020, I contacted Caroline who responded very enthusiastically, which was very encouraging for me. A couple of weeks later, we met in her office with Amit, the former Cambridge-Africa Programme Manager who sadly passed away in May. We had a very interesting and insightful conversation, which led to the opportunity for me to join the Cambridge-Africa team on a short-term (3 months) to design a postdoctoral research fellowship scheme for African early-career researchers.
The Cambridge-Africa Postdoctoral Research Fellowship Scheme (CAPReF)
Very excited, I joined the Cambridge-Africa team in May 2020 and started working on the postdoctoral project immediately. With Caroline's approval, I called the new postdoctoral research scheme, CAPReF, which stands for 'Cambridge-Africa Postdoctoral Research Fellowship'. I thought it was a natural fit to 'CAPREx', a recently concluded Cambridge-Africa postdoctoral initiative, which offered Africa-based researchers, short-term opportunities (up to six months) to visit and carry out an aspect of their research in Cambridge. The CAPReF will build on existing Cambridge-Africa capacity strengthening initiatives, including the African PhD scholarship programme, and will offer exceptionally talented early-career African researchers, a unique academic platform, with the right opportunities and resources to discover, develop and deliver innovative solutions to Africa's challenges and the Sustainable Development Goals (SDGs). The 3-year postdoctoral interdisciplinary research training scheme will enable African ECRs to acquire the knowledge, expertise and connections they need to contribute to Africa's sustainable development, as well as to advance their own research careers. In addition, the CAPReF fellows will benefit immensely from the academically rich Cambridge ecosystem, tapping into a wide range of opportunities and resources that would allow them to promote research and innovation in Africa.
Drawing on my experience
Prior to joining the fantastic Cambridge-Africa team in May, I worked as a postdoctoral researcher at the Department of Plant Sciences, where I completed my PhD in Plant Sciences as a Gates Scholar. This postdoctoral position was not the usual bench-side type. It was rather focused on further developing an Africa-focused capacity building project called 'Reach & Teach Science in Africa', which I developed during my PhD under the JR Biotek Foundation, a non-profit organization that I established to advance bioscience education, research and innovation in Africa. The initial vision of the 'Reach & Teach Science in Africa' initiative was to reach and teach high-quality science to 1,000 Africa-based agricultural researchers by 2029, but we exceeded this target in just one year of starting the project. To date, we have provided world-class scientific teaching, particularly in aspects of molecular biology and biosciences to over 3,000 researchers in more than 50 nations, mainly in Africa and South Asia, and these researchers and academics continue to reach thousands of students in their various countries with the knowledge and academic resources acquired from our programmes. There is no doubt that the incorporation of a virtual learning platform during the COVID-19 lockdown contributed to this rapid growth.
The 'Reach & Teach' programme has been generally supported by the Department of Plant Sciences and colleagues at the University of Cambridge, but particularly, by Professor John Carr - an excellent Principal Investigator (PI), who supports and encourages African students and researchers. Prof. Carr has supported our African bioscience training and outreach initiatives since the 2nd year of my PhD, and has helped to raise substantial funding, the latest of which was the Global Challenges Research Funding (GCRF)-QR funds, which contributed to the expansion and further strengthening of the 'Reach & Teach Science in Africa' capacity building project. Part of this project was to run multiple hands-on scientific Workshops (on Plant Molecular Biology and Lab Instrumentation Design) at the University of Abomey-Calavi in Benin Republic West Africa in June 2020 for 50 outstanding African early-career researchers, but the workshops were indefinitely postponed due to the COVID-19 pandemic.
Teamwork
Working with the Cambridge-Africa team was a great way to conclude my Cambridge journey, which started as a Gates PhD scholar in September 2015. Joining the team and developing the CAPReF programme was something that I never thought would happen, but I am very grateful for the opportunity. I specially thank Dr. Caroline Trotter for believing in me and giving me the opportunity to work on this beautiful project, which was driven by my interest and passion to see more opportunities created for excellent African researchers who will make a difference on the continent, and I hope it attracts sustainable funding.
Although I did not know what to expect before joining the Cambridge-Africa team, I thoroughly enjoyed my time with them, especially learning about the wide range of impactful projects and collaborations they have set up between Cambridge and Africa. I must add that Caroline, the Academic Director, is a brilliant, inspiring and exceptional leader. She is very understanding, kind-hearted, caring, and action oriented. As a woman in science, I am inspired by her strength, humility, passion and gentle but firm style of leadership. Her ability to carry everyone along, with a very calming and graceful nature makes you forget that she's the boss - haha! Above all, Caroline is extremely hardworking and passionate about supporting and strengthening research capacity and collaborations between Cambridge and Africa. I'm glad that our meeting led to a potentially impactful initiative that will support a new cadre of African researchers who will solve Africa's challenges. I believe that the Cambridge-Africa Programme is on an excellent right track under her leadership. I would also like to specially thank Corinna, Polly and Parinaz for being wonderful colleagues and excellent at what they do for Cambridge-Africa. They made me feel very comfortable and hopeful from the very first day I joined. I looked forward to meeting them in person, but the lockdown didn't allow that to happen. Nevertheless, I'll stop by one day for coffee and to get some laughter going. I wish that Amit had seen the final CAPReF project proposal. He was kind-hearted, caring and genuinely passionate about supporting the Cambridge-Africa PhD scholars, researchers and the overall Cambridge-Africa vision.
Signing off to a brighter future
I am very pleased to continue my research career as a postdoctoral researcher at the John Innes Centre, an international centre of excellence based in Norwich, UK. My research aims to delineate the function of putative wheat yellow rust disease susceptibility genes during wheat infection by the biotrophic pathogen, Puccinia striiformis f. sp. tritici (Pst), a wheat destroyer and major threat to wheat production and food security worldwide. By understanding how these wheat genes function during attack by the yellow rust pathogen, we may be able to develop new and more effective forms of resistance in wheat crops, which will ultimately help to safeguard and enhance global wheat production. I am also continuing to work with JR Biotek Foundation's global team to strengthen our African bioscience capacity through world-class scientific research training and outreach programmes, and the newly established Carol & Noor African Bioscience Mentoring Academy, which Noor (a Cambridge PhD graduate and current postdoctoral researcher) and I set up to mentor Africa's brightest bioscience students who wish to pursue advanced degrees at top world Universities and to make a difference in Africa and globally.
Thank you to Carol from the Cambridge-Africa team - it has been wonderful working with you and we wish you every future success!