Researchers' Database
Researchers from across the University of Cambridge and its affiliated institutes are engaging with the initiatives of the Cambridge-Africa Programme by carrying out collaborative research with African colleagues, and/or supporting African fellows.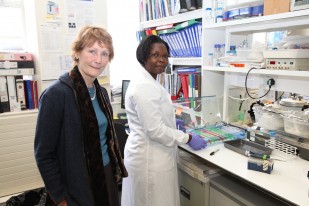 Photograph:
Dr Annettee Nakimuli, Makerere University and MUII PhD Fellow, and her Cambridge co-supervisor Professor Ashley Moffett, Department of Pathology.
In order to encourage new collaborations with African researchers and to support African PhD students and post-doctoral fellows, we have built (and are continuously expanding) a database of current and potential Cambridge collaborators and their expertise. The Cambridge researchers listed are either already engaging with, or have indicated their interest in being matched to Africans who have similar research interests. Cambridge researchers who would like to get involved do not need to have a pre-prepared project available, or existing African links, in order to be included in the database. If you would like your details to be included, please complete the (short and painless) registration form.
Note to African researchers searching for a Cambridge collaborator: Please be aware that any enquiries about potential collaboration with a Cambridge researcher should to be directed to one of the Cambridge-Africa team or enquiries@cambridge-africa.cam.ac.uk in the first instance. They will then put you in touch with the Cambridge researcher if there is an appropriate match in the research interests. Thanks for your cooperation.
A B C D E F G H I J K L M N O P Q R S T U V W X Y Z
Position & Affiliation:
Strategic Lead for Global Public Health Research, MRC Epidemiology Unit
www.mrc-epid.cam.ac.uk/people/nigel-unwin
Research Interests:
Current research includes, but is not limited to: assessing the success and impact of policy measures for the prevention and control of non-communicable diseases (NCDs); investigating health inequities related to diabetes and CVD; using systems thinking and modelling to inform policy decision making around diabetes prevention and control; evaluating the impact of fiscal measures on diet, such as a tax on sugar sweetened beverages.
Publications:
Unwin N, James P, McLarty D, Machybia H, Nkulila P, Tamin B, Nguluma M, McNally R. Rural to urban migration and changes in cardiovascular risk factors in Tanzania: a prospective cohort study. BMC Public Health 2010;10:272.

Walker, R. W., A. Jusabani, E. Aris, W. K. Gray, N. Unwin, M. Swai, G. Alberti and F. Mugusi (2013). "Stroke risk factors in an incident population in urban and rural Tanzania: a prospective, community-based, case-control study." The Lancet Global Health 1(5): e282-e288.




Walker, R. W., A. Jusabani, E. Aris, W. K. Gray, N. Unwin, M. Swai, G. Alberti and F. Mugusi (2013). "Stroke risk factors in an incident population in urban and rural Tanzania: a prospective, community-based, case-control study." The Lancet Global Health 1(5): e282-e288.

Oni T, Unwin N. Why the communicable/non-communicable disease dichotomy is problematic for public health control strategies: implications of multimorbidity for health systems in an era of health transition. Int Health. 2015. Epub 2015/06/25. doi: 10.1093/inthealth/ihv040