Researchers' Database
Researchers from across the University of Cambridge and its affiliated institutes are engaging with the initiatives of the Cambridge-Africa Programme by carrying out collaborative research with African colleagues, and/or supporting African fellows.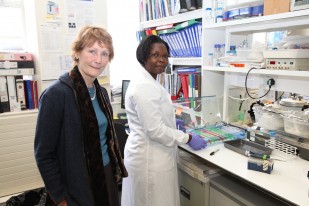 Photograph:
Dr Annettee Nakimuli, Makerere University and MUII PhD Fellow, and her Cambridge co-supervisor Professor Ashley Moffett, Department of Pathology.
In order to encourage new collaborations with African researchers and to support African PhD students and post-doctoral fellows, we have built (and are continuously expanding) a database of current and potential Cambridge collaborators and their expertise. The Cambridge researchers listed are either already engaging with, or have indicated their interest in being matched to Africans who have similar research interests. Cambridge researchers who would like to get involved do not need to have a pre-prepared project available, or existing African links, in order to be included in the database. If you would like your details to be included, please complete the (short and painless) registration form.
Note to African researchers searching for a Cambridge collaborator: Please be aware that any enquiries about potential collaboration with a Cambridge researcher should to be directed to one of the Cambridge-Africa team or enquiries@cambridge-africa.cam.ac.uk in the first instance. They will then put you in touch with the Cambridge researcher if there is an appropriate match in the research interests. Thanks for your cooperation.
A B C D E F G H I J K L M N O P Q R S T U V W X Y Z
Dr Hendrik van Veen
(Drug Binding & Transport In Cancer Cells & Pathogens)
hwv20@cam.ac.uk
More Info
Position & Affiliation:
University Senior Lecturer, Dept of Pharmacology
www.phar.cam.ac.uk/ri/van_veen.html
Research Interests:
I have built up an enthusiastic and productive research group focusing on the structural and functional mechanisms of drug binding and transport by multidrug transporters in cancers cells and pathogenic microorganisms. My long-term aim is to design new and better drugs that circumvent the drug pump activity of these transporters, or that are able to modulate or reverse their transport activity.
Possible project topics: Any of the topics listed on my website is open for collaboration.
Publications:
(1) Gutmann DAP et al. (2009) Understanding polyspecificity of multidrug ABC transporters: closing in on the gaps in ABCB1. Trends in Biochemical Sciences. In Press. DOI: 10.1016/j.tibs.2009.07.009. (2) Velamakanni S et al. (2009) A multidrug ABC transporter with a taste for salt. PLoS One 4:e6137. (3) Velamakanni S et al. (2008) Multidrug transport by the ABC transporter Sav1866 from Staphylococcus aureus. Biochemistry 47: 9300-9308.




Position & Affiliation:
Consultant in Anaesthesia and Intensive Care, Royal Papworth Hospital, Cambridge Associate Lecturer, University of Cambridge
Research Interests:
Providing clinical expertise to facilitate the work of researchers seeking to answer key clinical questions in intensive care.
Investigating the impact of IT on the delivery of intensive care. Over more than 10 years of research, our multidisciplinary team including clinical staff, computer scientists, social psychologists and organisational researchers has looked at the implications of deploying customisable systems in hospitals, and at the potential for the recorded data to be used in improving clinical practice with AI-based visualisation methods.
Publications:
https://scholar.google.co.uk/citations?user=oCv5i8cAAAAJ&hl=en